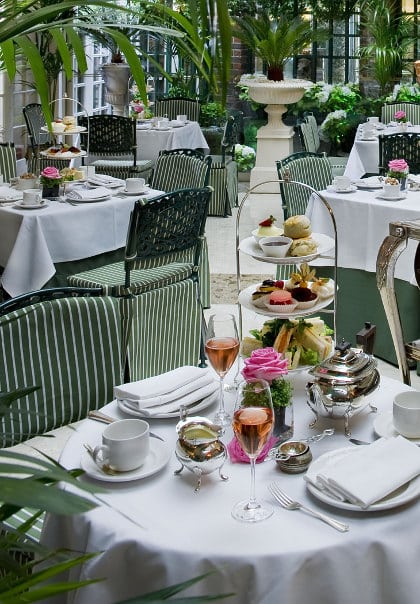 Welcome to my virtual tea party. "A Proper Tea is Much Nicer than a Nearly Nice Tea"- A.A. Milne.  Life is grand in the UK now that Season 3 is well under way, sad in the US as PBS won't be broadcasting the new season until January. Americans however did get a glimpse of their favorite stars at the Emmys this past Sunday.
The British may have historically failed in other culinary areas*, but excel in the tea ritual. My virtual tea party allows me to dish on Downton Abbey, the Royal Family, UK tourism and other topical tea issues one might discuss at tea, served up with a tea treat recipe with a history. Today's treat is Treacle Tart, the first dish mentioned by name by Mrs. Patmore in Season 3.   It has long been a favorite sweet treat in English households: Harry Potter fans know that it was Harry's favorite.
My Online Guide to the Tea Ritual
Taking a traditional "afternoon tea" is definitely a bucket list experience. To do it properly, I have created a handy guide to help you enjoy the experience. One follower reported this week she was thrilled to be able to find a tea house in her small town.  I suggested she use the tips to practice to become the queen of her tea house, train take on to take on London. Downton Abbey Cooks Online Guide to Afternoon Tea.
Anyone can be a Downton Abbey Cook: My Interview
To learn more about how you too can become a Downton Abbey Cook, read my interview in Downton Abbey Cooks: Take over Mrs. Patmore's Kitchen in WeWomen magazine.
Dishing Downton: Spoiler Alerts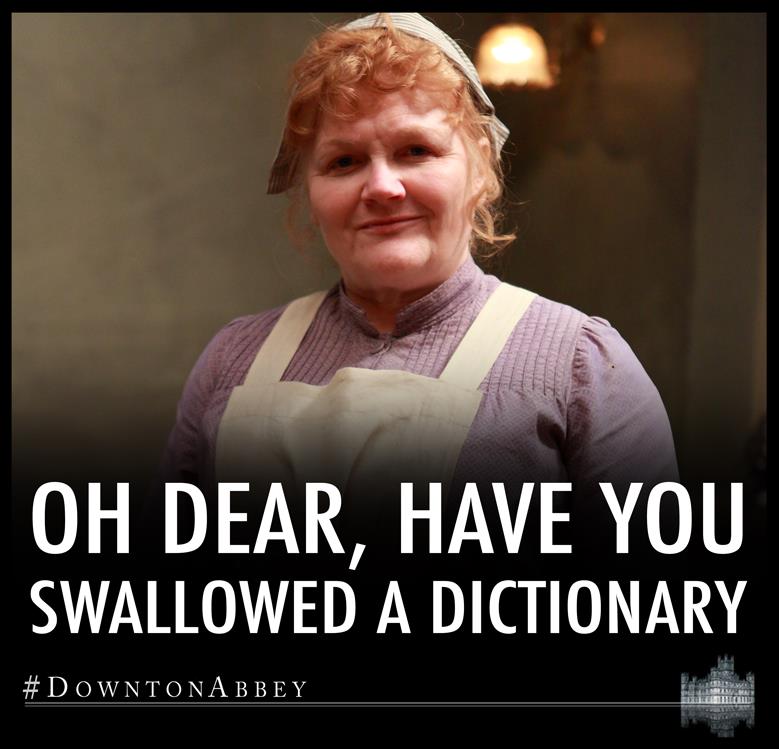 WARNING: if you wish to remain in ignorant bliss about that is going to happen in Season 3, I would suggest you scroll right down to our recipe of the day.
A win for one is a win for all.  Maggie Smith won the Emmy for Best Supporting Actress.
What they were wearing at the Emmys: the women of Downton's red carpet looks
Lord Grantham's Hugh Bonneville tweeted after the Emmys: "Wow that was a fun few days at the #Emmys. Thanks for all the cheery tweets. Thrilled for Dame Mummy, my chum @lewis_damian & #Homeland."
The Dowagers Quotable Quotes are mounting up.  Ep.2 provided a number of classics including "Never mistake a wish for a certainty", and "No guest should be admitted unless their date of departure is settled."
In Kitchen Spoilers, the old stove packs it in.  Seriously, they had gas ranges in England in the 1880s, time to get with the times Lord Grantham.
A Lesson in Etiquette: British Etiquette champion William Hanson dissects Ep.2  Rules of Etiquette Revealed. Perhaps he should be a consultant on the show.
Food History:  Golden Syrup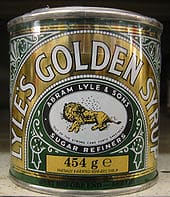 If you have spent any time around the English or Harry Potter films, you may have heard of the term Treacle.  It simply refers to molasses. The most famous manufacturer of treacle is Lyle's Golden Syrup, a light treacle.  It was recently declared Britain's oldest brand, registering its trademark in 1904 and granted a Royal Warrant in 1911.  The company was founded by Abram Lyle, a Scottish businessman in the sugar business.  The sugar cane refining process produced a treacle-like syrup that usually went to waste, but Lyle found that it could be refined to make a preserve and sweetener in cooking.   Waste not want not.
Brand junkies take note.  The artwork on the tin is not what you would normally associate with food.  The tin displays the rotting carcass of a lion with a swarm of bees, bearing slogan "Out of the strong came forth sweetness".  A deeply religious man, the image refers to the story in the Book of Judges in the Bible.  Samson kills a lion on his journey to find a wife.  When he passed the same spot on his return he noticed that a swarm of bees which had formed a comb of honey in the carcass. Samson later turned this into a riddle at a wedding: "Out of the eater came forth meat and out of the strong came forth sweetness".
Golden syrup is widely available, made either from sugar cane or sugar beets.  It is a key ingredient for Treacle Tarts.
Treacle Tart
Servings

Prep Time

Cook Time

12

tarts

1

minutes

45

minutes
Servings

Prep Time

12

tarts

1

minutes
Make the pastry
Preheat the oven to 375°F.

Combine the flour, salt, sugar. Work in butter until the mixture resembles breadcrumbs (if you must you may use a food processor). Add the egg yolks, vanilla and water until a smooth dough is formed. Wrap the dough in cling film and chill in the fridge for half an hour.

Unwrap the chilled pastry and roll out as thin as you can (cuts the calories) to fit a 9 inch fluted pan, or you can cut into circles and press into muffin tins. Work the dough into the crevices of the pan.

Line with tin foil, fill with baking beans, and bake for 10 minutes. Remove the paper and beans and bake for 5 minutes.

Use the dough trimmings to make a lattice top on the large tart if you like.
Make the Filling
Heat the golden Syrup with the lemon. Add the ginger. Sprinkle the bread crumbs in the tart shell or distribute among the muffin tins. Pour in the syrup. Note, the syrup bubbles when cooking so the mixture should be not fill more than half way up the sides of your pan.

Bake the larger tart for 20–30 minutes, individual sized tarts for 10 – 15 minutes.
*English Cookery– the worst in the world?
While famous British chefs (Jamie Oliver, Nigella Lawson, Gordon Ramsay) have helped boost the reputation of English cuisine, I am pretty sure many food critics still compare some English fare with the quality of Branson's soup that he attempted to dump on the General's head in Season 2. Apparently that reputation goes back hundreds of years. From Mrs. Beeton's delightful book, Mrs. Beetons Book of Household Management, published in 1861:
IT HAS BEEN ASSERTED, that English cookery is, nationally speaking, far from being the best in the world. More than this, we have been frequently told by brilliant foreign writers, half philosophers, half chefs, that we are the worst cooks on the face of the earth.