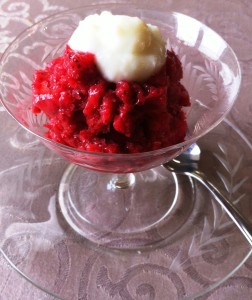 The days are getting longer, and the warmer weather is slowly starting to make itself at home.  Encouraged,  Lord D. bought me a new pink bicycle which I will name Daisy, although she looks like a Penelope to me.
Sadly all is not right in the world. Last Monday I lost a friend to pancreatic cancer.  Yesterday the we are stunned by the senseless bombing at the Boston Marathon.  I always looked forward to race day, when I could put months of training to the test.  From joy of accomplishment to utter shock and disbelief in a blink of an eye. My prayers to all those affected, and a way forward so that we can live in a kinder gentler world. But we must put on a happy face and move forward.
Last week we made DIY Jello, this week today's dish is Victorian Strawberry Water Ice, one of many ices (aka frozen desserts) I fancied enough to put in my cookbook.
It will have to hold you for a few weeks as I will be offline planning and then taking a trip to Bermuda.  See you in May with new recipes.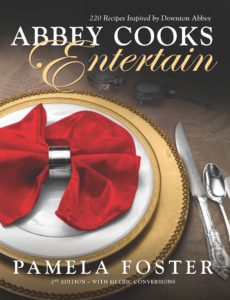 With 220 Downton era recipes, you will want to get this book for recipes for the famous Downton dishes from Season 1-5. I also presented a whole chapter on Garden Parties. Experimenting with ices (ice creams and frozen yoghurts) was my favorite part.
Book sales help offset my costs in food, equipment and time to keep bringing you new dishes each week. You can only get a signed copy here on my site. If you don' have an eReader I would suggest the PDF version which can be printed, if you like. Click here to shop.
All About Ices
If you remember way back to the Garden Party episode before the war, Daisy was charged with ensuring that the ices didn't melt.  Ices (frozen desserts) were a staple at garden parties. Simple ices made of summer fruits were fancied by Edwardians, often frozen into elaborate metal moulds representing the shape of the fruits themselves. I find it an amazing feat since they did not have the convenience of our conventional freezers.
The estate dairy provided plenty of whole milk and cream so that the country house cook could also create a variety of rich ice creams to offer guests. You can recreate the same effect of moulded ices using simple silicon moulds in interesting shapes. Freezing your mixture into popsicles also counts, but feel free to simply serve your ices in small dessert bowls.
You can make ices without an ice cream maker by simply placing your mixture into the freezer to let set, and mixing it every hour or so, but it is time consuming and the consistency just isn't the same. Ice cream makers aerate the mixture to give it a full rich taste, and do the work in as little as 20 minutes.  Modern electric ice cream makers are compact and take all the time and labour out of the old hand cranked versions.
Victorian Strawberry Water Ice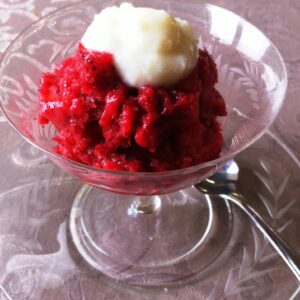 Strawberry Water Ice
Ices (frozen desserts) have long been a part of English garden parties. Simple ices made of summer fruits were fancied by Edwardians, often frozen into elaborate metal moulds representing the shape of the fruits themselves. This is a simple classic Victorian recipe which illustrates how you would freeze your ices without the benefit of an ice cream maker. If you live low carb or keto, just replace sugar with Swerve.
Ingredients
4.5

lbs.

strawberries

hulled and mashed

¾

cup

icing sugar

or Stevia confectioners sugar for Keto

1

large

lemon

juiced
Instructions
Purée the pulp and pass through a fine sieve, discarding the seeds. Place one third of the pulp in a separate bowl, whisking in the icing sugar until dissolved.

Whisk this mixture back into the remaining pulp with half of the lemon. Taste and adjust lemon and icing sugar to suit your taste. It will be less sweet when frozen so take that into consideration.

Pour the liquid into a shallow plastic container and place in the freezer. Stir every half hour with a fork or until the mixture starts to freeze. Then beat every 15 minutes until it holds a soft shape. You can serve at this point or leave in the freezer for later use.

Placing in moulds provides a decorative touch to your garden party table but should be allowed to soften before serving. The warm weather outdoors should help accomplish that nicely. Alternatively, let the ice soften in the container, and mix before serving.

An easy way to solve this problem is to scoop into popsicle molds.