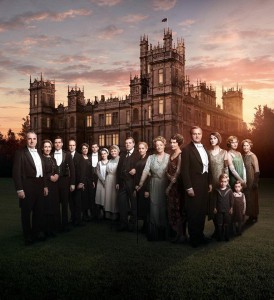 By the time leaves begin to change, the lazy days of summer are long behind us. Schedules are packed with activities, and for Lord D and I, that has meant much Downton. To begin with Season 6 launched in the UK (I promise no spoilers).  Next, I gave a Downton Afternoon Tea talk recently(and have more planned). Also, my virtual friend Jessica Fellowes was in town. If you have a chance to see her speak, do not deny yourself the opportunity. Finally, now that Thanksgiving is upon us Christmas is not far away. Yes, it is busy times.
The English don't celebrate Thanksgiving as one day, but while here we traditionally turkey, gravy, and pumpkin pie (follow the links for those recipes), I thought I would share Jamie Kennedy's recipe for Roast and Confit of Duck, a wonderful dish Lord D and I enjoyed at What's Cooking Bracebridge. It's very Downton.
Downton Dish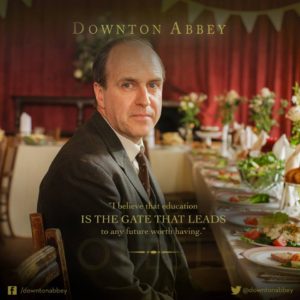 While UK fans have enjoyed all but the last episode of Season 6, Americans have to wait a little longer (see countdown clock).  In the meantime a few bits and bobs (and hints) to keep us up to date until the final season launches.
What's Cooking Bracebridge 2015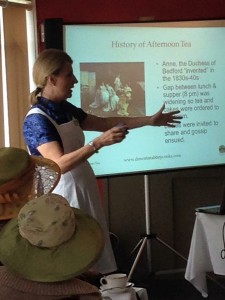 What's Cooking Bracebridge was a lovely event featuring a number of cookbook authors, from food trucks to turkey carving, this weekend had something for everyone who loves to cook or eat.
My Afternoon Tea was a sold out event which brought together ladies in their finery to enjoy afternoon tea with a bit of history served on the side.  R&L Bistro were gracious hosts, and honored me by hosting a dinner with recipes from my cookbook.  To see what you missed, check out my interview on Cogeco (video).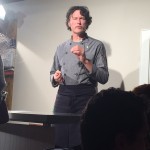 Lord D and I were honored to have been seated at Chef Jamie Kennedy's table at the Saturday night gala, but like most chefs, he preferred to spend his time in the kitchen preparing all the dishes (which were from his cookbook). I had a wonderful conversation with him after dinner as we shared our love for cooking fresh and local. His connection to Downton – he was the feature chef at a Downton Abbey gala in Toronto a few years ago.
A Glorious Afternoon with  Jessica Fellowes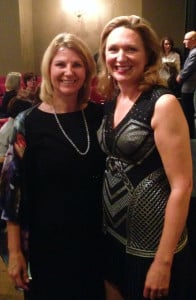 I finally had a chance to meet Jessica Fellowes in person, a kindred spirit who loves this period of history as do I. Jessica is the niece of Downton's writer Julian Fellowes, and is a writer in her own right. She now has 3 official Downton books from her extensive research with her all insider access to cast & film sets. She was in Toronto recently to provide a retrospective about the show.  Little did I realize that she has family in Toronto; I happened to meet a few of her relatives waiting for the doors to open.
Jessica spoke for an astonishing two hours without stop.  She spoke about how the show mirrored life in that era.  She described the characters and their roles in society, and also wove in anecdotes about cast members, filming, and her famous uncle.  She is extremely knowledgeable about the era and the show; she is gracious, charming, funny, and self depreciating (she gave a nod to Spanx, our version of the corset).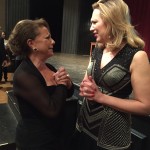 I jumped on stage to help time her for a game of 15 seconds on each of the men on the show.  I had no idea, for example that the name "Atticus" was used as a result of a patron paying money for the privilege. She answered every single question from the audience and spent time with a few of us at the end of the show, while her relatives quietly waited to take her out for a cuppa before the evening show.
While she was not in town long, she was able to find time to visit one of the local morning shows. Click to view.
New BOOK:  Relaxing Over Afternoon TeA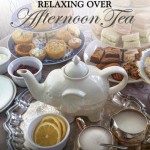 I have been working furiously to finalize my book on Afternoon Tea. The book contains lots of recipes for tea treats, the three S's: scones, sandwiches/savouries and sweets.
The book provides a brief history of afternoon tea, tea etiquette and tips on how to host your own tea for fun or fundraising.  Follow link to order ebook.
Abbey Cooks Entertain: 2nd Edition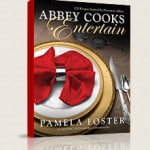 Summer means entertaining. Have you held a garden party?  Whether you are hosting 2 or 20, this book has lots of ideas. Containing 220+ traditional Downton era recipes with a modern twist, this is a great book to create some simple or complex dishes for your Mary or Anna.
This 448 page ebook has been updated to include both metric and imperial measurements and now includes famous Downton dishes from Season 1-5.  Book sales help offset my costs in food, equipment and time to provide you new recipes on a regular basis.
This ebook is now available for download here (see right) and on Amazon:  Abbey Cooks Entertain: 220 recipes inspired by Downton Abbey, Seasons 1 – 5
Print Version is here.  The good news is that the 2nd Edition is available on Amazon. The full book is 450 pages and will contain famous Downton recipes from Seasons 1-5.
Roast and confit of Duck with Roasted Potatoes and Sour Cherries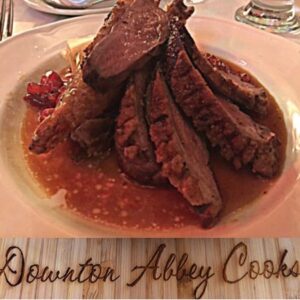 Elegant Roast and Confit of Duck with Roasted Potatoes and Sour Cherries
This is definately a dish for special occasions where you wish to impress. It takes two days to finish the dish but is simple in execution.
Ingredients
1

medium

fresh duck

about 4 pounds

1

pinch

A generous sprinkling of coarse salt

2

cloves

garlic,

thinly sliced

2

fresh

bay leaves

12

whole

peppercorns

cracked

2

cups

rendered duck or chicken fat

1

pinch

salt and freshly ground black pepper

1/2

cup

white wine

12

whole

sour cherries

pitted

4

tsp. (20 ml)

Granulated sugar

8

small

new potatoes

1

large

leek,

cut into thin strips
Instructions
Remove the legs from the duck.  Place the legs in a baking dish.  Sprinkle with coarse salt, garlic, bay leaves and peppercorns.  Cover and place in the refrigerator for 2hours.

Preheat the oven the 250F. In a saucepan, melt 2 cups (500 ml) duck fat over medium heat.  Pour over the salted duck legs.  Bake for 4 hours or until the thigh bone comes away from the legs easily.  Cool in the fat, then cover and refrigerate overnight.

Preheat the oven to 400F.  Remove the breasts from the duck.  Season with salt. Place the breasts skin-side down in a large cast-iron frying pan over medium-low heat.  Gently sauté the breasts, without moving them, for about 10 minutes or until the skin is deep golden brown. Flip them onto the skin side again, and transfer, in the pan to the oven and roast from about 8minutes.  The flesh should still be quite rare.  Transfer breasts to a cutting board.

Pour off the fat and deglaze the pan with the white wine.  Boil the wine until it has reduced by half.  Add the sour cherries and sugar and simmer for 10minutes.

Meanwhile, remove the confit legs from their fat.  Cut the legs in half at the joint and place on a small baking sheet. Roast for about 20minutes or until bubbling and golden brown.

While the ducks are crisping, cook the potatoes in boiling salted water just until tender.  Drain. When cool enough to handle, cut them in half.  Slowly fry them in 2 tablespoons of duck fat.  When they are golden brown on all sides, add the strips of leek.  Gently sauté for 5minutes or until the leeks soften.  Remove from the heat and season with salt and pepper.

Lay out 4 dinner plates. Place a pile of the potato and leek mixture on each plate.  Arrange a piece of duck confit on each plate.  Spoon a pool of sour cherry compote around the duck.  Finally, carve each duck breast into 8 slices.  Place 4 slices on each plate in a an pattern against the piece of duck confit. Serve.
For Your Downton Abbey Collection