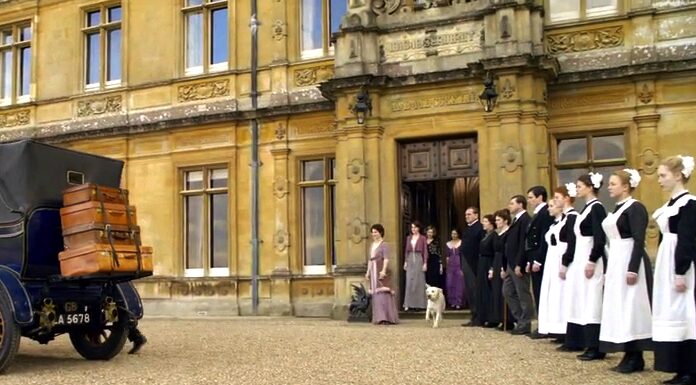 Downton, (not Downtown) Abbey, is a British produced period drama. Perhaps you have heard a bit about the story line, the quotes ("what is a weekend?"), the critical acclaim, as well as the awards it has won. You might have heard that PBS carried it on Masterpiece Theare–that sounds about right–and some fuss this past weekend with a grand finale: a Christmas episode…in February, that's odd. If you are like me, you hate jumping into show mid stream–or worse–when it is all over. So you may have not been convinced that this was a show to invest your time on.
Well its not too late for you to watch Downton anytine you want as you can find it on Amazon Prime.
Top 10 Reasons You Will Love Downton Abbey
It's free–unlike other shows, you can find it in reruns on public TV or basic cable.
Beautiful to watch–Season 1 cost £1 million/episode to produce.
Downton is a lovely home on a huge piece of land.
You don't have to live in England to enjoy tea and crumpets.
High brow humour–Maggie Smith, as the Dowager, has the best lines on TV.
British is Better–it is not an American show.
The Crawleys are part American.
Honor & decency reigns–indiscretions have consequences.
There is no singing–OK, there is 1 song, but it only comes later in Season 2.
An upscale alternative to Coronation Street, but we still love Corrie anyway.
Getting up to Speed: What you need to know
The series is set on the fictional estate of Downton Abbey in the North Riding of Yorkshire, featuring an ensemble cast, so there are many characters to get to know.
It was created and principally written by Julian Fellowes, and premièred on ITV on 26 September 2010.
There have been 2 seasons produced, and ITV has confirmed a third season will be broadcast, starting in September 2012 in the UK.
The upstairs scenes are filmed at Highclere Castle in Hampshire, which is open to visitors from April on. The Earl and Countess of Carnarvon actually live there. I am sure that letting out a few rooms for filming and visitors helps pay the taxes.
The servants' living areas were constructed and filmed at Ealing Studios in London.
The village of Bampton in Oxfordshire was used for filming outdoor scenes, most notably St Mary's Church and the library, which serves as the entrance to the cottage hospital.
It is the most successful British period drama since Brideshead Revisited, with ratings exceeding 10 million viewers.The series also was well received in the United States, averaging more than six million viewers per episode.
Critically acclaimed: Guinness World Records has awarded it "Highest Critical Review Ratings For A TV Show."
We love everyone on the show except for O'Brien and Thomas.
Host your own viewing parties
I remember the days when I would seek out friends who had premium cable so I could keep up with shows like The Sopranos. Yes, I admit that I would bribe my way in with baked ziti.
So you may gather like-minded friends at the home of whoever has the largest TV, or you could take turns hosting a party with period-appropriate food.
A few things to keep in mind:
The commercials are short so plan your bio breaks accordingly.
Feel free to dress up, but there are no tiaras on this show.
The show is in the evening, so tea might not be your cup of…
Wine is fine to drink. Claret (simply means a dry red wine) is often preferred by the Crawleys, as is Sherry.
Pimm's would also be a good choice to keep with the theme.
The food on the show is not very complicated to make, which is where I come in.