This week Christians around the world are celebrating Easter.  A moveable feast, Easter occurs the First Sunday after the Full Moon following the Vernal Equinox in the Northern Hemisphere.  Just check a calendar, it's much easier.
Marking the end of Lent, Holy Week leads to Good Friday which commemorates the crucifixion and death of Jesus Christ who died for our sins on the cross.  On Easter Sunday we celebrate his resurrection.  Easter is also linked to the Jewish Passover by symbolism and where it falls on the calendar.
In the Western world, Easter takes on secular customs, such as egg hunts and the Easter bunny.  The English tradition of wearing new clothes at Easter would have been gleefully followed by the women of Downton Abbey, although I am not so sure about the Dowager.  The Easter Bonnet, made famous by Judy Garland in Irving Berlin's Easter Parade is the last of this tradition, which was to keep in harmony with the renewal of the year and the promise of spiritual renewal and redemption.
Easter customs vary across the Christian world, but buns are a great tradition, from hot cross to currant buns.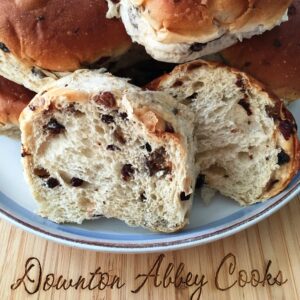 The Best Currant Buns
The Currant buns have graced English tea trays for hundreds of years.  Reverend Samuel Wigley founded the Currant Bun Company in Southampton, Hampshire UK in the 17th century. Currant buns are closely related to the Hot Cross bun which predates the Chelsea bun (1733).
Ingredients
1/2

cup

lukewarm water

1/2

cup

Granulated sugar

1

package

active dry yeast

(1 tbsp.)

3 1/2

cups

all-purpose flour

1/2

tsp.

salt

3/4

cup

warm milk

1/4

cup

butter, melted

2

eggs

1/2

cup

currants

(I like to soak them for a few minutes to plump them up)

2

tbsp.

icing sugar

1

tbsp.

water
Instructions
In a small bowl or measuring cup, combine warm water and 1 tbsp. of the sugar, sprinkle yeast over top. Let stand for 10 minutes or until frothy.

Meanwhile, in a large bowl, blend together remaining sugar, flour and salt. In a small bowl, whisk together the milk, butter, and eggs. Stir in yeast mixture until combined.

Make well in the dry ingredients; using a wooden spoon, stir in the yeast mixture until a soft dough forms. Turn out the dough onto a lightly floured board. Knead for 8 minutes or until the dough is smooth and elastic. If you are new to working with yeast doughs, aim for 10 -12 minutes to get the hang of it.

Transfer dough to a large greased bowl, turning to coat. Cover with plastic wrap and let rest in a warm place for 1 hour or until the doubled in bulk. If you can stick 2 fingers in the dough and the indentation remains, you are ready to proceed.

Punch down; turn out onto floured surface; knead in currants. Shape into a 12-inch long log. Cut dough into 12 equal pieces.

Roll pieces of dough into smooth, seamless balls. Place buns on greased baking sheet leaving about 2 inches between each bun. Cover loosely and let rest for 30 minutes.

Bake in 400 F oven for 15 minutes or until golden brown. Stir together icing sugar and water, brush over warm buns; let cool on rack.
Notes
The currant bun is also closely related to the Hot Cross bun which predates the Chelsea bun (1733).  This currant bun recipe can easily be transformed into hot cross buns by adding cinnamon, cloves and nutmeg, raisins, and candied peel. You then drizzle a cross with icing sugar mixed with a little milk.  Hot cross buns are  traditionally served hot or toasted on Good Friday, the cross standing as a symbol of the Crucifixion.
If you like to make a large batch of buns of various types in one go, check out my Granny's sweet bun recipe.