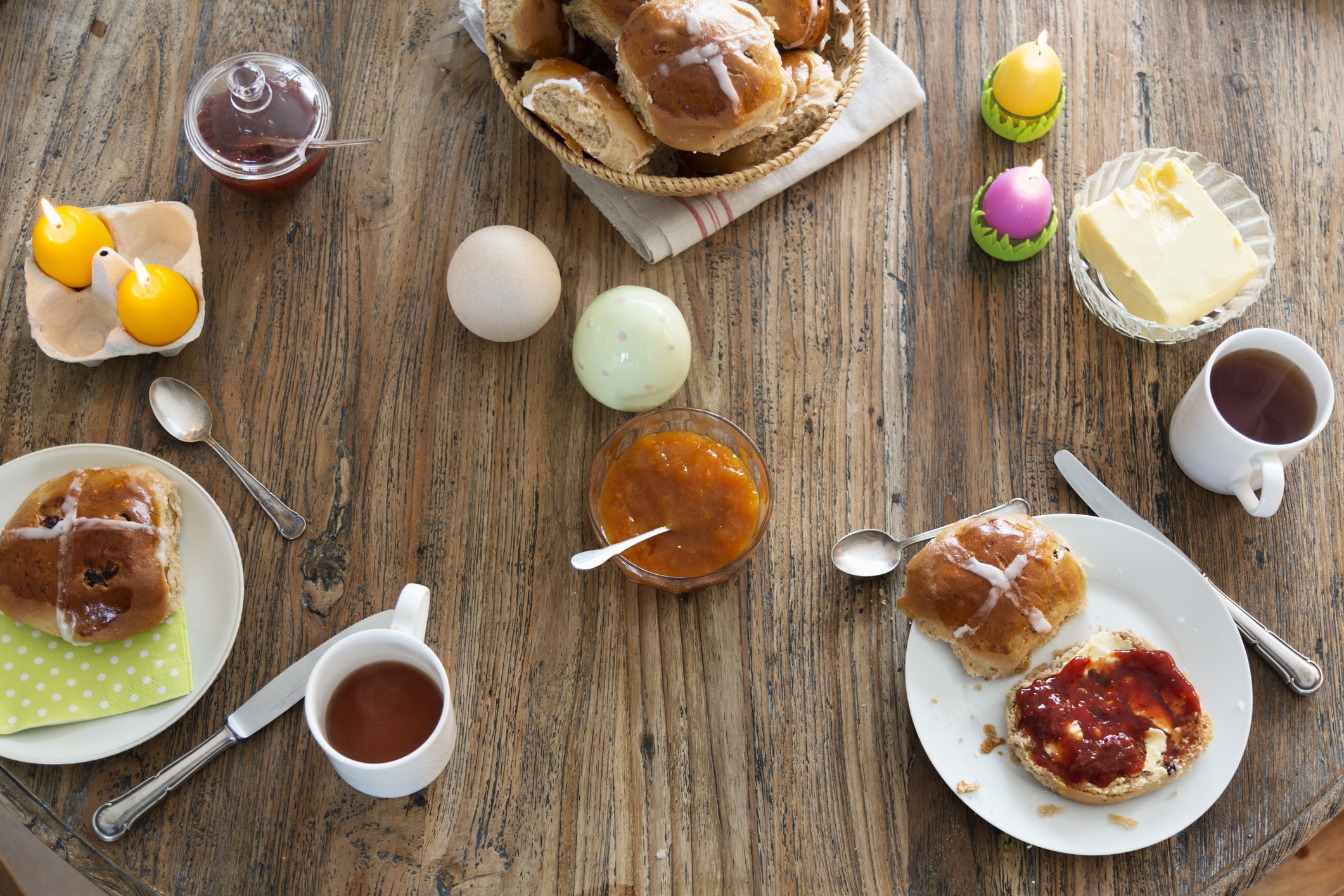 Hot cross buns have come a long way since its humble beginning. Many cultures such as the Egyptians, Greeks and Romans used to make sweet and spiced breads during the onset of spring to celebrate the end of winter and the start of a new season. However, it is said that the Anglo-Saxons were the ones to create cross buns as an offering to their goddess Eostre (the term 'Easter' is believed to be originated from 'Eostre') so that the year would be bestowed with fertility. The cross was made to indicate the four phases of the moon and also the four seasons in the year. The Egyptians and Greeks also marked the buns with the symbol of ox horns, which over the course of time transformed into a cross. Many regions across Europe too started making cross buns. In Sue Ellen Thompson's book called Holiday Symbols and Customs, it is mentioned, "When archaeologists excavated the ancient city of Herculaneum in southwestern Italy, which had been buried under volcanic ash and lava since 79 C.E., they found two small loaves, each with a cross on it, among the ruins."
According to some, the festival of spring and fertility was also celebrated by the ancient Jews and it was called Pascha, the Hebrew word for Passover. Much later it came to be known as Easter, from the pagans. With the rise of Christianity, many pagan customs and practices were reinterpreted to give them a new meaning, such as the cross on the buns began to symbolize the crucifixion of Christ, and the old association of fertility and rebirth became a part of the Christian's Easter celebrations as the rebirth of Christ.
According to another theory, the origin of hot cross buns dates back to the 12th century, when an Anglican monk named Father Thomas Rocliffe made small spiced cakes stamped with the cross to honour the 'day of the cross'. from http://food.ndtv.com
COVID quarantine will likely limit your ability to find hot cross buns in stores, but if you have flour and yeast at home, this may be the year to make your own.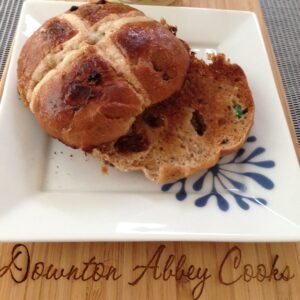 Amazing Hot Cross Buns
Hot cross buns are traditionally served hot or toasted on Good Friday, the cross standing as a symbol of the Crucifixion.
Ingredients
1/2

cup

warm water

1

tbsp.

yeast

1

tsp.

sugar

3/4

cup

milk

scalded

2

large

eggs

1/2

cup

sugar

1

tsp.

salt

2 1/2

tsp.

cinnamon

1/4

tsp.

cloves

1/4

tsp.

nutmeg

1

cup

raisins

1/2

cup

currants

or chopped candied peel

1/4

cup

unsalted butter

melted

4 1/2 - 5

cups

unbleached all purpose flour
Glaze
1

large

egg

3

tbsp.

caster sugar
Crosses
1/3

cup

unbleached all purpose flour

5

tbsp.

water
Instructions
Proof
In a one-cup measuring cup, pour 1/2 cup warm water. Add 1 tsp. sugar, but do not stir. Slowly sprinkle the yeast into the water, ensuring that each particle gets wet. Do not stir. Wait 10 minutes until the yeast is thick and foamy.
Mix
Add the following into a large bread bowl, stirring after each addition: milk which has now cooled, eggs, sugar, salt, cinnamon, cloves, nutmeg. Next add the yeast mixture, raisins, currants or peel, 1 cup of flour and the cooled butter and mix. Quickly add in the remaining flour one cup at a time to make a fairly stiff dough. Coat with flour before turning on a floured work surface to knead.
Knead
Turn the dough out and knead until smooth and elastic which should take about 10 minutes.
First Rising
Place the dough into a greased bowl. You can use your bread bowl after it has been cleaned. Turn over the dough so that the top is now greased as well. Cover with a clean tea towel and put in a warm place until doubled which will take about 1 1/2 hours.
Shape
Punch the risen dough and turn out onto a floured surface. Shape into a 12-inch long log. Cut the dough into equal pieces to make 12 or 16 buns, depending on the size you like.
2nd Rising
Work each piece of dough into smooth, seamless balls. Place buns on two greased baking sheets leaving an each between each bun. Press each to flatten slightly. Cover with a clean tea towel and let rest for 30–45 minutes in a draft-free place, or in your oven.
Bake
Preheat your oven to 375F.

Mix the egg with caster sugar to make an egg glaze. Brush buns with the egg glaze. Mix the flour and water to make the paste for the crosses. Pipe the crosses onto the buns.

You can skip this step and score a cross in the bun and then finish after baking with thick icing to pipe a cross onto each bun after the buns have been baked and cooled.

Bake for 15-18 minutes. Cool immediately on a wire rack.