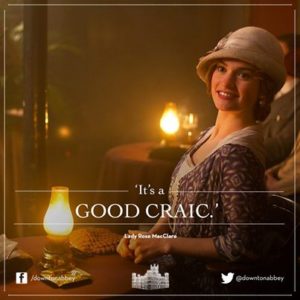 After a long cold winter, Spring has finally arrived, what great craic! Craic is an Irish word for fun and enjoyment, typically mixed in with alcohol and music, but still an expression of delight that we can shed our winter clothes and enjoy sun, and a new growing season.  I was particularly delighted to see my rhubarb plants already growing and I can't wait to dig into a fresh stalk of tart delight.  Then again I have always preferred sour over sweet.
In any event, rhubarb is one of my favorite vegetables, not least of which is that is likely the easiest plant to take care of.  Edwardians simply adored rhubarb, and while I have already shared a few rhubarb recipes (see below) in the next few posts, we will explore more recipes for breakfast, lunch and dinner.  Today we start the day off right with healthy rhubarb oatmeal gems (muffins).
Downton Dish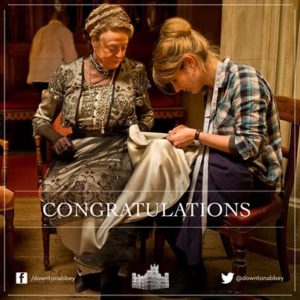 We will have to get used to Downton Downtime.  We do know that Season 5 is coming eventually (Sept on ITV,  Jan on PBS), so we will see press about new casting, and perhaps a plot spoiler or two in the next 8 months.  However, the popularity of the show does provide us with crumbs to keep us going:
Abbey Cooks Entertain: Only $7.95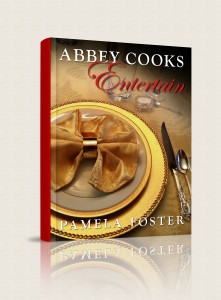 Just because S4 is over, that doesn't mean you can't continue to share the love of this period of history in food with family and friends.
With 220 traditional Downton era recipes with a modern twist, this is a great book to create some simple or complex dishes for your Mary or Anna.   This 432 page ebook sells for $7.95. Book sales help offset my costs in food, equipment and time to keep bringing you new dishes each week.
While the book is available on Amazon, you can only get a signed copy here on my site.
If you don't have an eReader I would suggest the PDF version which allows you to print recipes as you go, if you wish. Buy one for yourself, gift to another.  All you have to do is email the download link to your loved ones.
My Favorite Rhubarb Recipes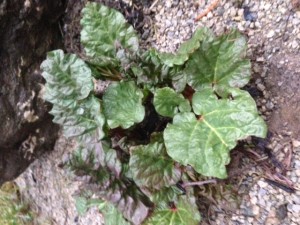 Some of my favorite rhubarb recipes and you will discover in the new few weeks, that rhubarb can be used in main course dishes as well.
Healthy Rhubarb Oatmeal Gems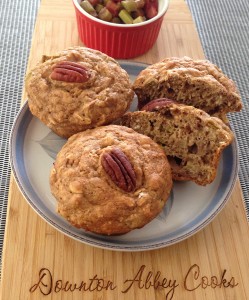 I bake muffins (or gems as they are still sometimes called in the UK) every week.  I enjoy one on my train commute into the city.  Oatmeal is a favorite ingredient of mine, and adding a scoop of vanilla protein powder to the mix gives a protein kick for the day.  Lower fat muffins stick to muffin liners, so best to go au naturel.
Makes 12 Muffins
Ingredients
2 cups finely chopped, fresh or frozen rhubarb
2 eggs
1 cup milk
1 tsp. lemon juice
1/2 cup unsweetened applesauce
2 1/2 cups whole wheat flour
1/2 cup brown sugar
1 1/2 cups sugar (or sugar substitute)
1 cup large flake rolled oats
1 tsp. cinnamon
2 tsp. baking powder
1 tsp. baking soda
1/4 salt
Method
Preheat oven to 350°F, and prepare muffin tins.
In a bowl, whisk together the eggs, milk, lemon juice, and applesauce.
In another large bowl mix together the whole wheat flour, brown sugar, rolled oats, cinnamon, baking soda and salt.
Make a "well" in the center of the dry ingredients, and pour the egg mixture in, and stir just until combined.
Gently stir in the chopped rhubarb.
Spoon the batter into muffin tins.
Bake about 28 – 32 minutes, or until a toothpick inserted in the center comes out clean.
Cool muffins in the pan for about 5 minutes, and then remove to a cooling rack
Tools of the Trade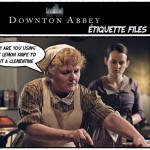 Having the proper tools to prepare your holiday meal is a great step in the right direction.  If you have run out of time for Thanksgiving, use what you have and make note for what you need for your Christmas dinner.  Many experienced cooks take years to assemble all the tools that they can rely upon so start slowly, and buy quality.
My favorite muffin pan:  I love making muffins, but not fond of scrubbing out my muffin tins.  Papers might be great for clean up, but low fat muffins stick to the paper, so the best next thing is a better muffin tin.  I love using ceramic muffin tins.  A quick twist and the muffin pops out and clean up is a breeze.
[easyazon-image align="none" asin="B00HXLQUDA" locale="us" height="103″ src="http://ecx.images-amazon.com/images/I/41BjFFbHLgL._SL160_.jpg" width="160″]
Your Downton Downtime Survival Guide
Click on the icons to take you to Amazon to order.
Servings

Cook Time

Passive Time

12

Muffins

28 – 32

minutes

5

minutes
Cook Time

Passive Time

28 – 32

minutes

5

minutes
Preheat oven to 350°F, and prepare muffin tins.

In a bowl, whisk together the eggs, milk, lemon juice, and applesauce.

In another large bowl mix together the whole wheat flour, brown sugar, rolled oats, cinnamon, baking soda and salt.

Make a "well" in the center of the dry ingredients, and pour the egg mixture in, and stir just until combined.

Gently stir in the chopped rhubarb.

Spoon the batter into muffin tins.

Bake about 28 – 32 minutes, or until a toothpick inserted in the center comes out clean.

Cool muffins in the pan for about 5 minutes, and then remove to a cooling rack