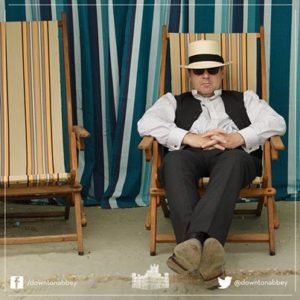 Now that the US, UK and Canada have enjoyed long weekends this month (and other countries in hot pursuit), we can all in the mood for taking it a little easier at work and enjoying life outdoors. Less time looking for missing files, and more time searching for gardening tools.  Your accounting skills are now put to use by calculating your golf index and how much food to buy per person for the camping trip. Organizational talents range from BBQ grill management to pulling together details for your neighbourhood street party.  Forecasting is all about looking up at the clouds. And then there is freezer inventory.
Our annual family"Fishing Like A Crawley" fishing trip is a month away.  We still have salmon and a bit of ling cod left in our freezer from last year (thanks to vacuum packing) so we have been gifting to friends and colleagues what we can't eat ourselves.  In keeping with my rhubarb series, we are making Grilled Salmon with Sherry Rhubarb Sauce using rhubarb in a main course dish, in a wonderful boozy sherry sauce.
My List of Favorite Rhubarb Recipes Keeps Growing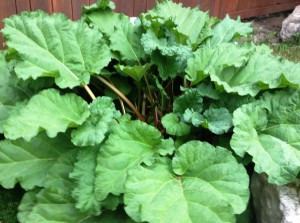 Like my rhubarb plants, the list of great ways to enjoy rhubarb keeps growing. An Edwardian favourite, it really is a versatile vegetable, great for breakfast lunch and dinner.
Did you know that Rhubarb is good for you?
Rhubarb is a great source of:
Calcium for strong bones
Antioxidants for flawless skin and better vision
Vitamin K, for healthy blood clotting and a strong immune system
Satisfying Grilled Salmon with Sherry Rhubarb Sauce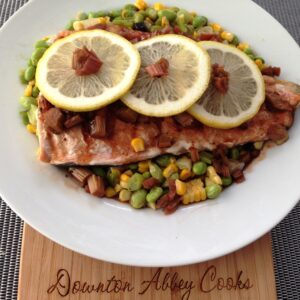 Satisfying Grilled Salmon with Sherry Rhubarb Sauce
Summer and salmon always go together in our family because we annually go salmon fishing off the Alaska coast.  Add grilling season, rhubarb, and other veggies from the garden and you have the makings of a great summer meal. 
Ingredients
1 1/2

cups

sherry or other fortified wine

1/4

cup

honey

2

cups

fresh rhubarb cut into 1/4" piec

2

cups

green onion (whites only),

chopped

3

Tbsp.

unsalted butter

1/2

cup

chicken stock

1

cup

edamame

(or other flat bean)

1

cup

cooked corn kernels

(or other colorful veggie)

1

pinch

salt and pepper

4-6

ounce

wild salmon fillets or steaks, skin-on

1

tsp.

fresh lemon juice
Instructions
Prepare the Sauce
Combine the wine with the honey into a small saucepan, and heat for a minute or 2 until the honey is completed incorporated into the wine. Add the rhubarb and cook for a couple of minutes until the rhubarb is tender. Strain the liquid from the rhubarb, and set the rhubarb aside. Return the wine to the saucepan and reduce until you have 1/2 cup of syrup.
Prepare the Veg
In a skillet, melt butter and sweat the onions until soft by covering and cooking over low heat for about 15 minutes. Add the stock and thyme and season to taste. Cover again and simmer over low heat for another few minutes to allow the flavours to mix.

Cook the edamame (or other flat green bean) for 5 minutes in boiling water. Drain and add them to the onions, along with the corn kernels. Take off the heat while you prepare the salmon.
Grill the Salmon
To cook salmon, fire up your grill to medium – high. You can also heat a grill pan on the stove. Rub the salmon with oil and season with salt and pepper.

Place the salmon skin side down (if using fillets) and grill until the skin is crisp (about 4 – 5 minutes).

Carefully turn the salmon over and cook on the other side, until barely cooked through, about 4 minutes more, depending on the thickness of the fish.
Final Assembly
Remove the thyme sprigs and rewarm the onion mixture. Add the lemon juice and season with salt and pepper. Boil the sherry-rhubarb liquid and add the cooked rhubarb. Cook over high heat, just until hot, a minute or two.

Divide the bean/onion mixture among 4 plates. Add 1/2 of the cooked rhubarb. Next, top with a piece of salmon on each plate and then the rest of the rhubarb mixture.

Garnish with lemon slices if you wish.
Notes
Did you know that Rhubarb is good for you?
Rhubarb is a great source of:
- Calcium for strong bones
- Antioxidants for flawless skin and better vision
- Vita

min

K, for healthy blood clotting and a strong immune system