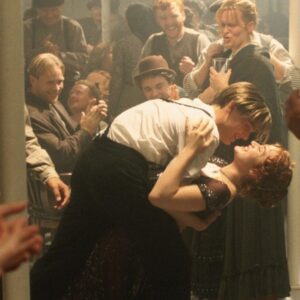 James Cameron's movie Titanic is celebrating its 25th anniversary this year. The film chronicles a love story across classes aboard the ill-fated voyage of Titanic which struck an iceberg on April 14th, 1912. Downton Abbey fans know that the show begins a few days after the event as news of the two direct heirs of the Downton estate were lost at sea.
As a foodie who loves history, I see these milestones as a way to gather friends and pay homage to lives lost in this tragic accident.
Travelling in Steerage
Third Class or Steerage was the lowest class of service.  "Steerage" referred to the part of the ship below-decks where the steering apparatus was located, so there were no views.

 While this was the lowest class of service, it was luxurious for many travelling.  This was likely the first time they would have used an indoor toilet. As we see in the scenes when Rose accompanies Jack to Steerage, they made their own entertainment and seem to have more fun than the stuffy upper classes.

 The major difference was that boarding Titanic was not for pleasure, rather a journey to a new world and a better life as emigrants.
The Third Class Dining Room was divided in two by a watertight bulkhead. Seating was at the customary long tables each accommodating up to 22 people.
Together the rooms had a capacity of 400, with a provision for two sittings if Third Class was heavily booked. The room was bare and decorated in enamelled white and brightened by sidelights. There was no cloakroom; third-class passengers hung their coats on the dozens of hooks spaced around the room.  The forward room was reserved for families & single women and the aft room was reserved for single men. The uptake shafts from Boiler Rooms 2 and 3 partially occupied spaces in both chambers, dividing them into four sections. Some sections were panelled in pine; otherwise, only steel was painted in white enamel and hung with posters advertising other White Star ships.
3rd Class Menu
We know what was served on that last night as the menu cards survived, tucked into the pockets of survivors. Fortunately, menus survived the disaster. There were three classes of passengers on the ship, so there are other options, and if you aren't a purist, you could mix and match dishes from each class. Follow the links to the 1st and 2nd class menus.
On the day that Titanic sank, third-class passengers enjoyed oatmeal porridge and milk, vegetable stew, fried tripe and onions, bread and butter, marmalade, Swedish bread, tea, and coffee for breakfast. The lunch menu included Bouillon soup, roast beef and brown gravy, boiled green beans, potatoes, cabin biscuits, bread, and prunes and rice. Freshly baked bread and fruit were available at every meal.
The third class menu for dinner is a traditional roast beef dinner that shouldn't be intimidating for any host. Here is a break out of the 3rd class (steering) menu served last evening. While meagre compared to 1st and 2nd class, the food quality in 3rd class still was likely better than what these passengers would have eaten at home.
This option makes sense for a younger crowd at a local haunt where you can celebrate the fun and frivolity the third-class passengers shared below decks (as depicted in James Cameron's version of events). Several years ago, I attended a steerage party with some girlfriends at a restaurant/nightclub in a historical building. It was a lot of fun, and the food was pretty good.
Third Class Menu
Titanic Dishes across all Classes