Peaches in Chartreuse Jelly was served as a dessert course in 1st class on the last night of the ill fated voyage of Titanic.
Chartreuse is an after dinner liqueur which dates back to the 17th century, a creation by 3 monks who each had one part, but not the entire recipe.  It is available in green and yellow.  While the green provides a nice color contrast to the peaches, it has more of a vegetable or herbal flavour, the yellow tastes more like honey.  It is one of the handful of liquors that continues to age and improve in the bottle.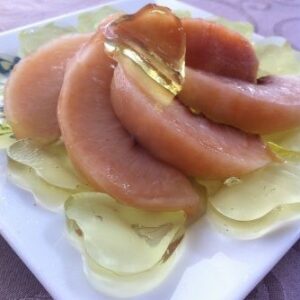 Peaches In Chartreuse Jelly
Peaches in Chartreuse Jelly was served as a dessert course in 1st class on the last night of the ill fated voyage of Titanic.
Ingredients
Peaches
3

large

clingstone peaches

4

cups

water

2

cups

Granulated sugar

1/4

cup

lemon juice

1

stick

cinnamon

3

whole cloves

Fresh lemon balm leaves or edible flowers
Chartreuse Jelly
5

tsp

powdered flavourless gelatin

2

cups

water

1/3

cup

Granulated sugar

1

cup

Chartreuse
Instructions
For the Jelly
Dissolve the gelatin in 1 cup of water.

In a small pot, bring the remaining cup to a boil. Add the sugar and stir until it is entirely dissolved. Remove from heat and allow to cool for about 20 minutes. Add the Chartreuse and the gelatin and stir to combine.

Pour into a 9? x 13? glass baking dish lined with waxed paper; refrigerate until completely set.
For the Peaches
Immerse the peaches in a large pot of boiling water for about 30 seconds; then immediately transfer them to cold water. Slip off the skins, and cut them in half and remove stones.

In a large pot, combine the water and sugar; cook over medium heat stirring gently until sugar is dissolved. Bring to a boil and cook for one minute or until syrup is clear.

Add lemon juice, cinnamon stick and cloves.

Add the prepared peaches making sure they are entirely immersed; cut a piece of parchment slightly smaller than the pot and place over the top of the peaches to make sure the remain submerged, or use a plate or a smaller lid and place in the pot.

Bring the syrup to a boil and reduce the heat to medium-low and poach the peaches gently for 6 minutes or until soft (they should be easy to cut into with a spoon). Allow the peaches to cool in the syrup. This may be stored for 24 hours in the refrigerator.
Finishing the dish
To serve, turn out the jelly onto a cutting board and carefully remove wax paper, and roughly chop 2/3rds of jelly with knife or edge of large spoon. Divide broken jelly amongst 6 dessert plates. using a knife or cookie cutter, cut remaining third of jelly into decorative shapes. Use a spatula to arrange shapes around the outer edge of each bed of jelly.

Slice peaches from one end to almost the other, and fan it out onto a bed of jelly. Garnish with edible flowers or lemon balm leaves.