British love their custard and essentially this a simple custard with apples. Great for beginning cooks to try and a great date night dessert.
Apparently the actual recipe for this dessert went down with the ship (understandable under the circumstances), but there are a few versions that attest to being close to the original.
My version is based on the recipe found in the Last Dinner on the Titanic. The portions in first class, particularly after nine courses, would likely be individual portions, making it more elegant and easier for the wait staff to serve.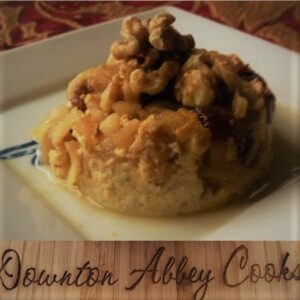 Easy yet Elegant Waldorf Pudding
Waldolf pudding is a simple custard dessert with apples and walnuts which was famously served on the Titanic.
Ingredients
2

large

tart apples,

peeled and finely chopped

1/2

cup

raisins

2

tbsp.

lemon juice

1

tbsp.

crystallized ginger,

finely chopped

1

tbsp.

butter, unsalted

1/3

cup

caster sugar

2

cups

milk

4

large

egg yolks

beaten

1

pinch

nutmeg

finely ground

1

tsp.

pure vanilla extract

1/4

cup

toasted walnuts,

halved
Instructions
Preheat oven to 325 F (160 C, Gas Mark 3)

Stir together apples, raisins, lemon juice, and ginger.

In skillet, melt butter over high heat; add apple mixture and cook for a few minutes

Stir in 2 Tbsp. of the sugar. Cook for a few minutes until the apples are carmelized.

Divide apples amongst 6 1 cup ramekins which have been oiled.

Place milk in a medium saucepan set over medium heat and heat milk until it bubbles. Take some hot milk and add to the eggs, mix and then pour the egg mixture into the saucepan, whisking constantly until thoroughly blended, add the remaining sugar and keep mixing over heat until the mixture starts to thicken a bit. It should look like a sauce. Add the nutmeg, vanilla, and mix well. Pour over apple mixture.

Set the ramekins inside large roasting pan and Prepare a bain-marie (water bath) by pour enough boling water in roasting pan to come halfway up sides of ramekins. This will gently cook the custard.

Place in the preheated oven for 45 to 50 minutes or until custard is set but still jiggly. Carefully remove baking dish to cooling rack