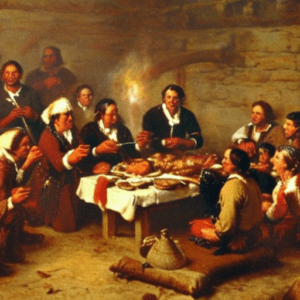 Thanksgiving is one of America's most beloved holidays. Families gather to enjoy a bountiful meal, reflecting on blessings and giving thanks. The holiday has its roots in the very first Thanksgiving shared between the Pilgrims and Wampanoag Indians in 1621. Let's take a look back at the origins of that historic feast.
The Pilgrims' Journey to the New World
In September 1620, 102 passengers set sail from England on the Mayflower ship seeking religious freedom. After a treacherous two month journey, they arrived at Plymouth Rock in present-day Massachusetts.
That first winter was devastating for the Pilgrims. Poorly built dwellings and lack of food led to rampant disease. By spring, only 53 people had survived. Despite the tragic losses, the remaining Pilgrims persevered.
Planting the Seeds of the First Thanksgiving
Come spring, the Pilgrims built new dwellings and planted crops. Enter Tisquantum, also known as Squanto, a Patuxet Native American. Squanto taught the Pilgrims techniques for planting corn, using fish as fertilizer. His knowledge and guidance were invaluable contributions to their survival.
In October and November of 1621, the Pilgrims' fall harvest proved bountiful. Governor William Bradford organized a celebration feast which included the Plymouth colonists and about 90 Wampanoag Indians. The meal lasted three days! This celebration was considered America's "first Thanksgiving."
What Was on the Menu?
Today's Thanksgiving feast centers around turkey and stuffing. But that first harvest meal likely featured very different fare. Many details about the first Thanksgiving meal remain uncertain, but historians have pieced together potential ingredients the Pilgrims and Wampanoag may have dined on. According to an article from the Smithsonian, the feast was likely quite different than today's traditional Thanksgiving spread. Using the process of elimination of what would have been available to the pilgrims at that time, here's what may have been on the menu:
Wild Fowl. Since the colonists still lacked domesticated poultry, the highlight was wild game like ducks, pigeons, geese, and swans. Deer or venison also offered tasty meat. A variety of seafood like lobster, cod, bass and clams provided hearty options as well.
Corn and Vegetables. Thanks to agricultural guidance from the Indians, the Pilgrims' harvest included vital vegetables like corn, beans, barley, cabbage, carrots, onions and peas. Fruits may have included blueberries, plums, grapes and cherries.
Herbs and Spices. The colonists' provisions from England would have included vital seasonings like cinnamon, ginger, nutmeg, pepper and sage. Using these spices allowed them to liven the flavour of foods.
Cornbread and Pumpkin. While no potatoes or sweet potatoes were available yet, the Pilgrims likely cooked with pumpkins and squashes. Cornmeal was used to make different breads and desserts like corn muffins or cornbread.
Our Family Connection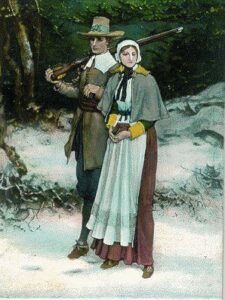 We are Mayflower descendants of Pilgrims John Howland and Elizabeth "Tilly" Tilley, so Thanksgiving holds special meaning for my family. Every year as we gather for our feast, I'm reminded of the sacrifices and blessings experienced by these two brave individuals over 400 years ago.
John Howland was an English indentured servant who accompanied the Separatists and other passengers when they left England on the Mayflower. He was one of the 41 Pilgrims who signed the Mayflower Compact before arriving in America.
During the journey, John was washed overboard but miraculously survived by grabbing a rope. He continued the journey alongside fellow passenger Elizabeth Tilley and her parents. In 1624, John married Elizabeth, known as Tilly.  There is a great children's book about his story, The Boy Who Fell off the Mayflower, or John Howland's Good Fortune.
Together they had 10 children who all survived into adulthood, blessing our family with a proud Pilgrim lineage. When we celebrate Thanksgiving, I think of John and Tilly gathering their large family with gratitude. Their courageous journey makes me appreciate the sacrifices that allowed me to be here today. As descendants, the meaning of Thanksgiving runs deep.
A Time of Celebration and Giving Thanks
This legendary meal represented many firsts. It marked the first instance of the colonists working together with the Native Americans, forging a mutually beneficial relationship. Both groups came together in peace to celebrate their blessings.
The meal itself was made possible by the counsel provided by the Wampanoag tribe on how to produce food in this new land. By learning to farm and working alongside the Native Americans, the Pilgrims secured a prosperous future at Plymouth. Their trust in one another highlights the spirit of communion and thanksgiving.
While specifics around the first Thanksgiving remain unclear, we carry on the spirit of gratitude, kinship and abundance that it represented. This American holiday traces back to a humble three-day feast shared by two communities. Though times have changed, the meaning at its heart continues to resonate. Each year as we gather for our Thanksgiving feasts, we celebrate the tradition begun 400 years ago.
Our Modern Thanksgiving  Entertaining Dishes