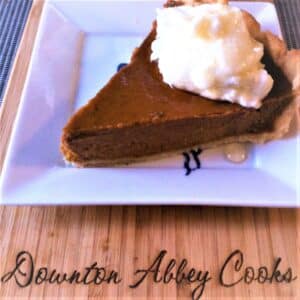 Fannie Merritt Farmer was an American culinary expert whose Boston Cooking-School Cook Book became a widely used culinary text. She is most recognized for promoting the use of measuring standards to help cooks replicate results.
Among her recipes is sweet potato pie, and as a Southern classic, it makes sense that included this in her cookbook. It is interesting to note, however, creamy recipes combining orange vegetables with sweeteners, spice and cream were known in Medieval Europe. Carrots were sometimes employed in this manner in England. Sweet potatoes (like pumpkins) were introduced to Europe in the 16th century.
Food historians tell us these new vegetables were greatly prized by some European kings and queens so when you have a sweet potato pie, you are eating like kings.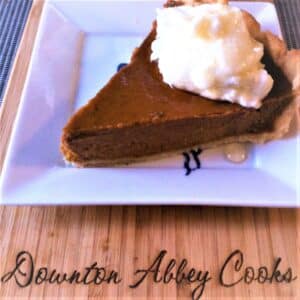 Fannie Farmers Sweet Potato Pie
Sweet potato pie has traditions dating back to Europe, first appearing in cookbooks in the 18th century.
Ingredients
1

pie crust

use frozen or make your own

2

cups

sweet potatoes

cooked and mashed

3/4

cup

sugar

2

tbsp.

molasses

optional

2

large

eggs

beaten

1 1/2

tsp.

nutmeg

1

tsp.

ginger

1/2

tsp.

cinnamon

1

tbsp.

orange rind

grated

2

tbsp.

butter

melted

1 1/2

cups

milk

or cream, evaporated milk
Instructions
Preheat the oven to 450F. Line a 9-inch pie pan with rolled-out dough and prick all over the bottom, then press a piece of heavy-duty foil directly into the pie shell. Bake for 6 minutes, remove the foil, and then bake for another 4 minutes, or until beginning to brown.

Combine the sweet potatoes and sugar in a large bowl, then beat in the optional molasses and the eggs. Add the spices and orange rind and stir well, then stir in the melted butter and the milk, cream, or evaporated milk. Pour into the prepared pie shell.

Bake for 15 minutes, then reduce the heat to 300F and continue baking for 30 to 40 minutes, or until the filling is firm around the edges but the centre remains slightly soft and quivers when you move the pie,