Traditions in Eastern European families include cabbage rolls, "Golubtsi", made in a unique way that Baba (grandmother) used to make. This is peasant food since the ingredients are quite inexpensive; however, they are labour intensive to make. As a result, they are often reserved for family gatherings over the holidays.
Size matters. The best cabbage roles are palm-sized or smaller.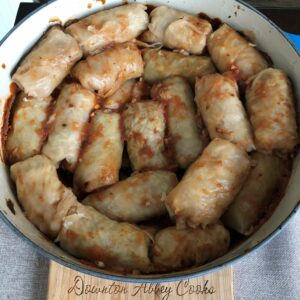 How to Make Authentic Cabbage Rolls "Golubtsi"
Traditions in Eastern European families include cabbage rolls, made in a unique way that Baba (grandmother) used to make. Size matters. The best cabbage roles are palm-sized or smaller.
Ingredients
Cabbage Roll
1

large

cabbage

1/4

cup

vinegar

8

cups

long grain rice

slightly underdone

1- 1/2

lbs.

minced beef or pork

1

large

onion

finely chopped

1

tbsp.

Paprika

1

tsp.

kosher salt

1

tsp.

pepper

freshly ground
Sauce
3

cups

stewed tomatoes

3/4

cup

water

2

tbsp.

white vinegar

2

tbsp.

brown sugar

1

tbsp.

cornstarch

1

clove

garlic

finely chopped
Instructions
Prepare the Cabbage
Many home cooks turn to Savoy cabbage since the leaves are less tough than regular green cabbage, but you can make allowances with any cabbage as long as it is large enough generate enough leaves for our roll. Alternatively, you can use two smaller cabbages.

Make cuts into and around the core of the cabbage and remove it. Place the whole cabbage, core side down, in a large dutch oven and fill with water to cover. Add a 1/4 cup of vinegar. Place on medium heat on the stove. Bring to a boil, reduce to simmer and then cook for at least one hour. Take off the stove and let cool.

Once the cabbage has fully cooled, start carefully peeling each cabbage leaf off. The goal is to get as many "usable" leaves to roll so try to avoid tearing. Use a knife to dig deeper into the core if you need to. Layer the leaves, place in a plastic bag and freeze overnight or until you are ready to make cabbage rolls.
Make the Filling
Mix the cooked rice with pork and spices. Families differ on the amount of meat to put in. Some exclude meat altogether. I like the 50/50 mixture of meat and rice.
Make the Rolls
Thaw the cabbage rolls. If they don't seem flexible enough for rolling, microwave in batches for 5 minutes which should help soften them

Prepare a Dutch oven by lining the bottom with the largest, thickest cabbage leaves that you won't be able to use for rolling. This step prevents the bottom row from burning in the oven.

Cut on either side of the large vein in the middle to create a small sheet of translucent cabbage for rolling. Sometimes I will shave a bit of the centre core down with a sharp knife so that I can still use the piece to roll. Put the leaves you can't use aside.

My technique to ensure the cabbage roll stays intact is to take a tablespoonful of filling and the squeeze in my hand to create a solid log.

Next, lay your leaf on your hand and then place your log at the bottom of the leaf and roll up tightly.

To tuck in the ends, gently squeeze your rolled log and use our index finger to push in the loose cabbage ends into the roll and repeat on the other side. Voila! You have completed a cabbage roll!

Place your roll against the side of the Dutch oven and continue adding more until you have filled the pot, run out of leaves and or filling.
Make the Sauce
Use a blender to break down the tomatoes and place them in a small saucepan on medium heat. Add the rest of the ingredients and heat until the sauce comes to a boil.
Final Assembly
Pour the sauce over the rolls and top the rolls with leftover cabbage to prevent the top from burning.

Bake in a 300F degree oven for 3 to 4 hours. They are done when the cabbage is light and flaky and the filling is fully cooked.

Cabbage rolls freeze well and you can repurpose the leftover leaves in soups or stir-fries.