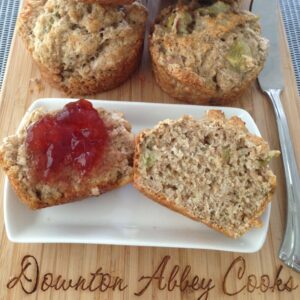 Canadians celebrated Queen Victoria's birthday yesterday, one of our most loved long weekends.  May 24th marks Victoria's official birthday, but the holiday falls on the last Monday before May 25. While still proud of our British heritage, this holiday takes on a special meaning marking the unofficial start to summer.
The fear of frost has passed in most parts of the country so many worked on their gardens, others fought horrific traffic to enjoy Canada's beautiful lakes, mountains and forests. Also known as the May Two-Four referring to the Queen's birthday and the Canadian slang for a case of twenty-four beers (a "two-four"), a drink popular with Cannucks during the long weekend.
As you may know, I love hosting virtual tea parties, featuring a new "Downton" era recipe you could serve at tea. Refer to my Online Guide to Afternoon Tea, helpful in understanding traditions and recipes to help you host your own tea party with family and friends.
This week's treat is rhubarb puffs, a great little bite that is the cross between a muffin and a biscuit. Great at tea, brunch or breakfast.
Abbey Cooks Entertain: Entertain this Summer Downton Style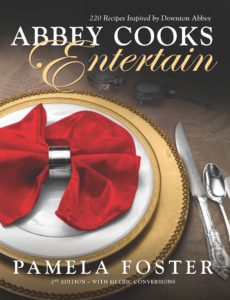 With 220 Downton era recipes, you will want to get this book for recipes for the famous Downton dishes from Season 1-3. I also presented a whole chapter on Garden Parties. Experimenting with ices (ice creams and frozen yogurts) was my favourite part.
Book sales help offset my costs in food, equipment and time to keep bringing you new dishes each week. You can only get a signed copy here on my site. If you don't have an eReader I would suggest the PDF version which allows you to print recipes as you go, if you wish. Click here to purchase.
Rhubarb Ideas
I can always count on my rhubarb plants to produce my first crop of fresh produce of the season, and all summer long so I need to keep a collection of recipes to use it all up.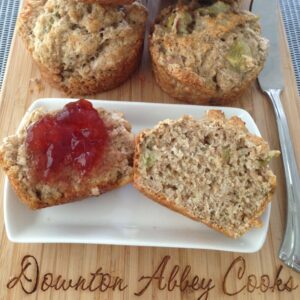 Amazing Healthy Rhubarb Puffs
Rhubarb puffs are a great way to use rhubarb without being too tart.  They are a cross between a muffin and a biscuit. Enjoy with tea, at breakfast, brunch or as a snack.
Ingredients
1.5

cups

sugar

(or sugar substitute)

1 

cup

water

2/3

cup

unsweetened applesauce or non fat plain yoghurt

(to replace oil)

2 

eggs

4 

cups

whole wheat flour

1.5 

tbsp.

baking powder

1/2

tsp.

salt

2

tsp.

cinnamon

3 

cups

finely chopped rhubarb
Instructions
Preheat oven to 375F.

Place sugar, water, and applesauce in a bowl.

Add egg, flour, baking powder, salt, and rhubarb.

Combine well, and and then fill into well-greased muffin tins.

Bake for 30-35 minutes until tops are golden brown.