L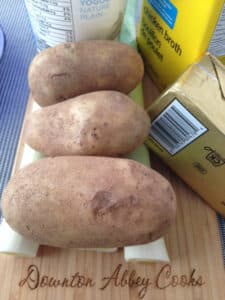 eek and potato soup is a simple dish that can be enjoyed in two ways, hot or cold.  There is some debate about whether it is a purely French or American creation, but the key players as told by the sous chef in this episode are Jules Gouffé and Louis Diat.
Jules Gouffé was the French Chef who created a hot potato and leek soup, published in Royal Cookery in 1869.   Food historians often use cookbooks to give credit for a recipe's creation.
Louis Diat was a French Chef at the Ritz-Carlton in New York.  He recalled the leek and potato of his youth.  Apparently his brother used to cool it off in the summer by adding cold milk.  So he recreated the dish, named after Vichy, a town not far from where he grew up in France.   In the days without air-conditioning, cold dishes such as this helped keep wealthy patrons happily coming back for more.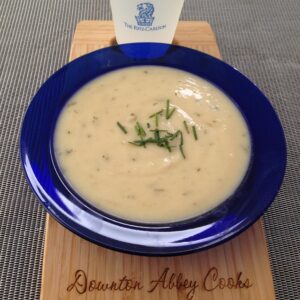 Classic Vichyssoise
This is a versatile dish and it is easier to make than it is to spell. You can have leek and potato soup hot in the winter and cold in the summer. It is simple and delicious to make.
Ingredients
2

tbsp.

unsalted butter

4

medium

leeks

white and light green parts only, finely chopped

5

medium

potatoes

peeled and finely diced, yellow or baking potatoes are best

1

medium

onion

chopped

1

pinch

salt and pepper

4

cups

chicken stock

2

cups

milk

cream or condensed milk

1

cup

cream or non-fat plain yoghurt

optional

1

tbsp.

chives

freshly chopped to garnish
Instructions
Melt the butter over medium heat in a large heavy pot. Sauté the leeks, potatoes, onion for a minute or two and then reduce the heat to low, stirring occasionally until the leeks are softened.

Stir in the stock, bring to a boil. Cover, reduce heat to low and simmer for 20 min or until potatoes are tender. Cool for 15 minutes.

Use an immersion blender or transfer to a blender/food processor and purée until the mixture is smooth. Transfer to a bowl and stir in the milk, using as much to give you the thickness you prefer.

Cover and refrigerate for at least 4 hrs, or until chilled, or for up to 1 day.

Season to taste with salt and pepper and serve sprinkled with chives.