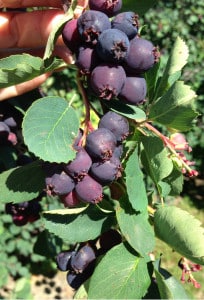 Serviceberries are a member of the Amelanchier family and are found across North America, but also in Europe and Asia.  They can be found in the wild, but often are planted as ornamentals for their masses of showy, white flowers in early spring and colourful fall foliage, but more importantly for foodies like me for their edible fruit. Also known as Juneberry, saskatoon, sarvis or sarvistree, shadblow, shadbush, and mountain blueberry. The blueberry-like fruit may be eaten fresh, baked in pies or other desserts, canned, or made into wine, jams, or preserves.
In the Before Time (pre-COVID) my dad and I would visit Berg's Berries in Southern Alberta to take in some of the harvests.  You pay by the bucket load and since they don't weigh you on the way out, my Dad thinks it is a pretty good bargain. So off we went for some Daddy-Daughter bonding to pick and eat berries together on a quiet weekend morning.
Once we have had our fill in our stomachs and buckets, we bring them home, wash and portion.  4 cups is enough to make a wonderful pie, 2 cups for 12 mini tarts. We make a few pies for now and then freeze the rest for the future.
The mini tarts are the perfect size to serve at parties and you can customize a with cookie cutter top.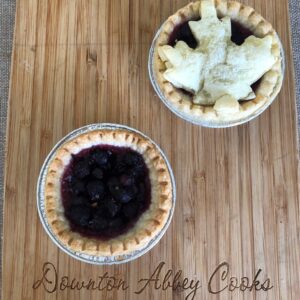 Serviceberry/Saskatoon Tarts
The serviceberry is also known as juneberry, saskatoon, sarvis or sarvistree, shadblow, shadbush, and mountain blueberry. It looks like a blueberry but has a much thicker skin. 
Ingredients
2

cups

serviceberries

1

tbsp.

lemon juice

1

tbsp.

water

1.5

tbsp.

cornstarch

or minute tapioca

1/3

cup

Granulated sugar

or sugar substitute (like Stevia)

/5

tbsp.

unsalted butter

1/4

tsp.

almond extract

optional

1/4

tsp.

salt

12

mini

tart shells

1/2

sheet

puff pastry

optional
Instructions
Wash your berries, picking out any green ones. In a medium saucepan, simmer the berries with the water, lemon juice, covered for 15 minutes.

Remove from heat and stir in sugar, 2 tbsp. of cornstarch and butter. Cool.
Assemble the Tarts
Place the frozen shells on a cookie sheet. Let them thaw 5 - 10 minutes.

Add the filling into thawed tart shells.

If you like to decorate the tops use a cookie cutter which will fit into the shell.

Sprinkle the top with sugar.

Place the cookie sheet in preheated oven set to 425F. Back for 12 - 14 minutes until crust is golden brown.
Notes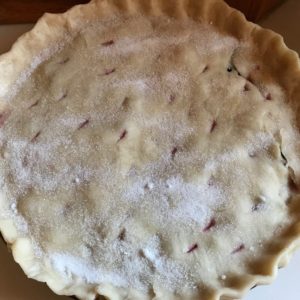 Plentiful Flaky Pie Crusts to Feed Any Crowd
If you have a huge crowd coming for the holidays this is a great pie crust recipe to have on hand. It makes five double pie crusts
Ingredients
5 1/2

cups

unbleached all purpose flour

1

tsp.

baking powder

1

large

egg

1

lb.

lard shortening

2

tbsp.

vinegar
Instructions
Shift dry ingredients. Cut in shortening with a pastry blender or two forks.

Put egg and vinegar in a measuring cup and fill to 3/4 cup with cold water.

Mix dry ingredients and make a dough. Use your hands or a food processor. It isn't particularly fussy to work with and you will end up with a lovely flaky crust.

Divide the dough into discs and refrigerate for at least an hour before using. You can easily freeze what you don't use for future pie happy times.
Notes
Help roll your crusts out to the right size, and keep your counters clean with a handy dough mat.