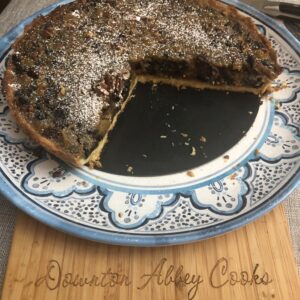 This delicious dessert is a typical British tart, and with the addition of whiskey you can guess that it has  Scottish origins. Adding dried fruit is very similar to the Scottish black bun, a cake make especially for New Year. And this tart would be perfect for Christmas, New Year or Robert Burns Supper.
This recipe comes from Gary Rhodes' book New British Classics.  If you love British classics but think they could do with a makeover to modernize this cookbook is for you.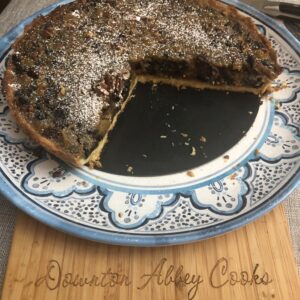 Scottish Fruit Tart with Whiskey
This is a typical British tart, its Scottish origins betrayed by the addition of whiskey.
Ingredients
For the Filling
1/2

cup

dark brown sugar

1/2

cup

unsalted butter

1

tbsp.

golden syrup

2

medium

eggs

3/4

cup

currants

1/2

cup

sultanas

1/2

cup

raisins

1/2

cup

walnuts

chopped

2

tbsp.

whiskey

or juice from the lemon
Sweet Shortcrust Pastry
1

cup

all-purpose flour

1/2

cup

unsalted butter

chopped

1/2

cup

caster or icing sugar

1

large

egg yolk

1

large

egg

1

medium

lemon

zested
Instructions
Prepare the Pastry
Sift the flour with the salt. Rub in the butter until the mixture resembles crumbs.

Stir in the sugar into the flour and butter mixture, then add the egg yolk, egg and lemon zest.

Work everything together and refrigerate for 30-60 minutes.

Leave the dough out to warm up 20 minutes before rolling.

Roll the pastry 1/4 (3 mm) thick and line an 8 inch tart ring, pressing gently into the edge for a nice finish. Leaving it untrimmed, refrigerate for 20 minutes.

Pre-heat the oven to 400F. Press and finish the top edge of the pastry edge. Line the ring with parchment and pie weights or dried beans/rice and blind bake for 15 to 20 minutes.

Remove from the oven and lift the paper and pie weights from the tart.
Prepare the Filling
Reduce the oven temperature to 375F

Gently melt the sugar, butter and golden syrup in a saucepan. Remove from the heat and whisk in the beaten eggs. Add the lemon zest, fruits, walnuts and whisky or lemon juice. Mix well together and spoon into the tart shell.

Bake for 20-25 minutes. Remove from the oven and let cool.

Can be served warm or cold, with whipped cream, custard or ice cream.
Own your Own Copy