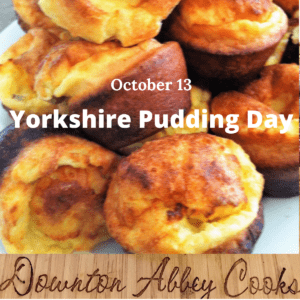 Happy Yorkshire Pudding Day, celebrating Roast Beef's favourite accompaniment.
Although traditionally British, this side dish is also loved by Americans. Yorkshire is so beloved that we celebrate twice a year: the first Sunday in February in the U.K. and October 13 in the U.S. and everywhere else.
It is not surprising that Yorkshire has become a family favourite across the U.S.  Roast beef, Yorkshire pudding and the whole buffet of traditional European foods made their way across America with pioneers and settlers. People cook what they know.  As with all times and places, the more money you had, the better you ate. Originally roast beef and Yorkshire pudding would have been only for the middle classes and wealthy.
Yorkshires are essentially pancake batter cooked in beef fat drippings or oil which puffs them up into golden crispy goodness. Traditionally made in one pan, muffin tins is a great way to make individual portions to soak up all the great beef gravy.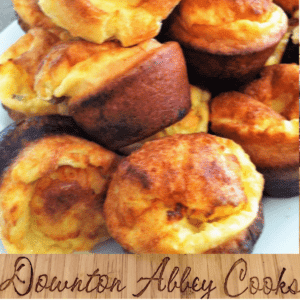 Amazingly Simple Yorkshire Pudding
No roast beef dinner should be served with this traditional treat.
Ingredients
6

tbsp.

vegetable oil or fat drippings from the roast.

1

cup

unbleached white flour

1/4

tsp.

salt

1

cup

milk

2

large

eggs

beaten

1

tbsp.

butter

melted
Instructions
Ideally make the batter ahead of time and let rest at room temperature.

Blend the flour and salt. Add the milk gradually and mix to avoid lumps.

Add the eggs and melted butter. Beat the entire mixture for 2 minutes so it is light and fluffy.

Preheat the oven at 450°F/230°C/Gas 8 and prepare your pans.

Traditional method: Pour a light layer of vegetable oil in the bottom of a 9 inch (23 cm) square metal pan.

Individual servings: 1 tbsp. vegetable oil in the bottom of each cup of a 6-cup metal muffin tin.

Put the pan into the oven to heat the oil.

Carefully take the heated pan from the oven and pour the batter over the oil.

Bake for 20 minutes or until golden brown. Don't open the oven door to check on them under any circumstances!

The pudding should easily pop out on the pans or if you used one pan, quickly cut into squares. Serve with love.

You can successfully refrigerate leftovers and reheat in a hot oven to crisp up.