Victoria Sandwich or sponge is a staple of English baking.  You will often see this cake sitting on a table nearby in period films during tea time.
There is not much variation in the actual recipe itself, but a few tips are helpful in creating the best result. What better source to call upon to help bake the best sponge, that Mary Berry, the baking maven.
Use mini heart-shaped tins and you have made yourself a romantic dessert for two.
This reipe is from The Great British Bake Off: How to Bake: The Perfect Victoria Sponge and Other Baking Secrets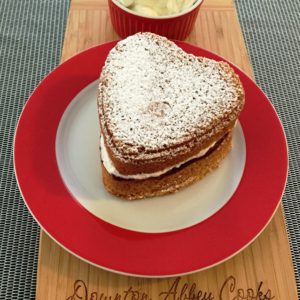 The Best Victoria Sandwich
Victoria Sandwich or sponge is a staple of English baking.  You will often see this cake sitting on a table nearby in period films during tea time. Use a heart shaped tins and you have made a lovely romantic dessert.
Ingredients
1/2

cup

unsalted butter

(225g) softened

1 1/4

cup

caster sugar

(225g)

4

large eggs

at room temperature

½

teaspoon

vanilla extract

1 3/4

cup

all purpose flour, sifted

(225g)

4

tsp

baking powder

1

tsp

milk

at room temperature

6

rounded tablespoons good raspberry jam

1

whipped cream

(optional)

icing sugar to dust
Instructions
Prepare two 8" cake tins by greasing the sides and cutting parchment paper circles to line the bottom of each tin. For mini heart shaped dessert, use four tins.

Preheat the oven to 350 ° F/180 ° C/gas 4. Put the soft butter into a mixing bowl and beat with a wooden spoon or electric mixer for a minute until very smooth and creamy.

Gradually beat in the sugar, then keep on beating for 3 to 4 minutes or until the mixture turns almost white and becomes very fluffy in texture; scrape down the bowl from time to time. Break the eggs into a small bowl, add the vanilla and beat lightly with a fork just to break them up. Slowly add to the creamed mixture, a tablespoonful at a time, giving the mixture a good beating after each addition and frequently scraping down the bowl. This will take about 5 minutes. If the mixture looks as if it is about to curdle, add a tablespoon of the sifted flour and then continue adding the last portions of egg.

Sift the flour again, this time onto the mixture, and add the milk. Gently but thoroughly fold the flour into the egg mixture using a large metal spoon. Do this as lightly as possible so you don't knock out any of the air you have beaten in.

Stop folding when there are no streaks of flour visible in the mixture. Check that there isn't a clump of flour at the very bottom.

Spoon the mixture into the tins so they are equally filled – you can do this by eye or by weighing the tins as you fill them.

Spread the mixture evenly in the tins, right to the edges. Bake for 20 to 25 minutes or until a good golden brown and the sponges are springy when gently pressed with your fingertip. They should almost double in size during baking. The mini tins will take around 15 minutes to bake.

Remove the tins from the oven and leave for a minute – the sponges will contract slightly. Run a round-bladed knife around the inside of each tin to loosen the sponge, then turn out onto a wire rack and leave to cool.

Set one sponge upside down on a serving platter and spread over the jam (and whipping cream). Gently set the other sponge, golden crust up, on top. Dust with icing sugar. Store in an airtight container and eat within 5 days.
Notes
Tips for creating the Best Victoria Sandwich
For a creamed sponge, the butter should be soft, rather than cold and hard, or warm and oily, so take it out of the fridge an hour or so in advance. If time is short, soften the butter by cutting it into cubes, putting the cubes into a bowl of lukewarm tap water (approximately 28 ° C), then leaving the cubes for 10 minutes or until a cube can be easily squeezed.
The best sugar to use for a sponge is caster. Granulated sugar is too coarse and results in a crust speckled with tiny particles after baking. Muscovado sugars are too strong in flavour and colour, and their moist texture would makes the crumb of the cake a bit sticky.
*My Tip:  save a special trip to the grocery store.  You can make caster sugar simply by pulsing granulated sugar in your food processor.
Make sure the eggs are at room temperature. If they are too cold it will be harder for air to be whisked in, which makes it more likely that the mixture might curdle or separate, giving a heavy sponge.
To avoid the wire cooling rack from marking the sponges, invert them, one at a time, onto a board covered with a sheet of baking paper, then remove the tin and lining paper. Set the upturned rack on the underside of the sponge, turn over together and remove the paper and board.
Tools of the Trade
Cooks, like other professionals, have their tools and as Mrs. Patmore says "it is a poor workman who blames his tools".  You can  make do with the basics, but as you gain confidence and love for cooking, you should start to recognize items to help you cook.  Mrs. Patmore didn't electronic gadgets to cook with so be assured you can make do without the expensive gizmos.  This section helps you identify some equipment that I use. Amazon has an amazing inventory of kitchen gadgets to add your own touch.
Mini heart shaped spring form pans for your Valentine