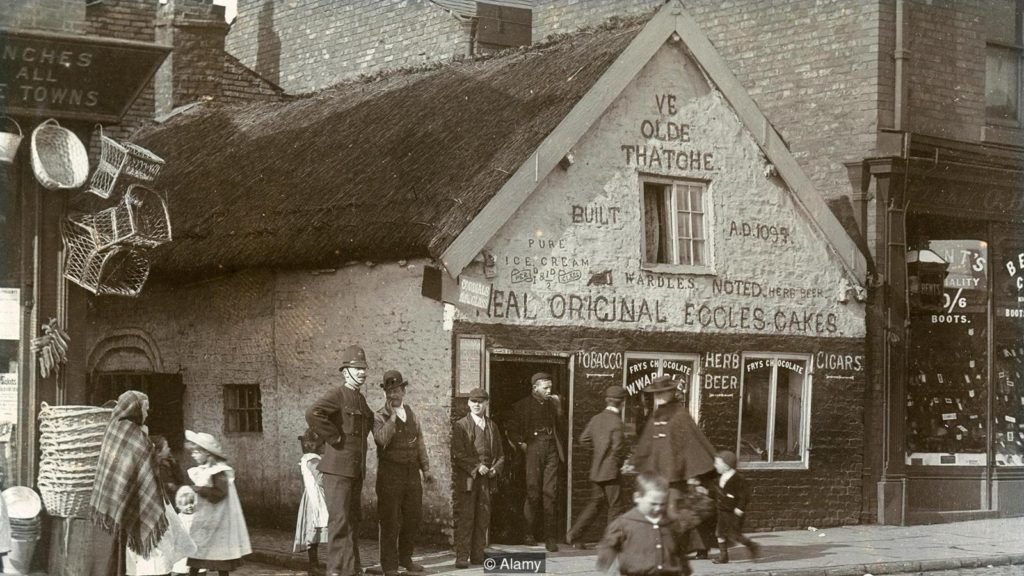 Eccles Cakes are a well known and loved English tea treat. Essentially it is flaky pastry filled with currants and peel.
The name comes from Eccles, the town near Manchester where the cake was originally sold on a commercial basis.  In 1793 James Birch's shop on the corner of Vicarage Road in Eccles began selling small, flat, raisin-filled cakes.  Rumour has it that he was inspired by the sweet patties recipe in The Experienced English Housekeeper.
Like many of Britain's cakes, the pastry has its origins in religious festivals. As one Mrs CF Leyel wrote in her 1936 book Cakes of England, "There was no festival or sacrament of the Church that was not symbolised by a spiced bread or cake." (Or as Shakespeare put it: "Dost thou think, because thou art virtuous, there shall be no more cakes and ale"?). It's thought that the Eccles cake was made for the feast day of St Mary in Eccles, whose town festival, known as Eccles Wakes, included the custom of rush-bearing (spreading rushes over the church floor), music and dancing.
During the strict Puritan years of the 1600s, that connection between Eccles cakes and religious revelry got the cake into trouble. Although legend has it that Oliver Cromwell himself banned the cakes, the truth is a little more nuanced. Puritan reformers abolished the celebration of saints' days, and then, in 1650, banned doing much of anything, including dancing, on the Lord's day of Sunday.
Because of their close connection with the celebration of a saint's day (and that some of these festivities fell on Sunday), as well as with general merriment on the town green, any cakes would have been de facto banned. But as is always the case with legal pronouncements versus how people actually live day-to-day – particularly with laws as persnickety as those of the Puritan era – people didn't always pay attention. "Eccles had a particularly stern Puritan parson but oddly enough Eccles cakes continued to be baked," writes Joan Poulson in the book Old Lancashire Recipes. "They were later sold at many of the fairs and wakes in Lancashire."
Though the ban on festivals later was lifted, by the 1800s, as this painting from 1822 shows, the Eccles Wakes were getting rather boisterous. Games like cock fighting and bear baiting had become part of the festivities. Fed up, the Home Secretary banned the Wakes in 1877. (Source BBC Travel).
More recently the question of origin of Eccles Cakes has been raised in Parliament. A question was tabled regarding the future of cakes made outside Eccles to the same ingredients. Could non Eccles-made cakes still be referred to (and sold) as Eccles cakes?  Sadly the battle to protect the beloved cake was lost so that they can be produced anywhere and called Eccles cake.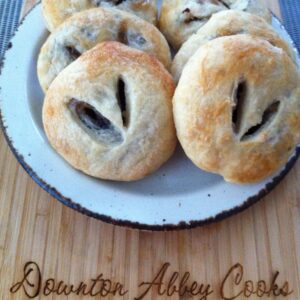 Quick and Easy Eccles Cakes
Not really a cake, but a puff pastry pocket filled with currants and mixed peel.  If you are a stickler for tradition, this is a great recipe to give authenticity to your tea tray.
Ingredients
1

package

butter puff pastry

2

tbsp.

butter

or applesauce to reduce fat

1

pinch

freshly ground nutmeg

2

tbsp.

candied peel, finely chopped

3

tbsp.

brown sugar

(or sugar substitute)

1/4

cup

currants
Instructions
Preheat your oven to 425F.

In a medium saucepan, combine the sugar and applesauce and cook over a medium heat for a few minutes until mixed together. Remove from the heat and add the add currants, candied peel and nutmeg.

On a lightly-floured surface, roll the pastry thinly if it does not already come pre-rolled, and cut into rounds of about ¼" thickness and 4" diameter. I use my crumpet rings as a cookie cutter.

Place 1-2 teaspoons of filling in the center of each circle.

Dampen the edges of the pastry with a little cold water and draw the edges together over the fruit and pinch to seal.

Turn over the cake over so the seam is now on the bottom and then press gently with a rolling pin to flatten the cakes.

Snip a V in the top with scissors, or you can make 3 slits with a knife. I like the V since it looks like a little heart when you are done.

Place on a greased baking tray. Brush with water and sprinkle with a little extra sugar.

Bake in the preheated oven for 15 minutes or until lightly browned round the edges.

Place on a wire rack and allow to cool.