Sauces are what make French cuisine so distinctive. Hundreds of sauces were developed over hundreds of years. Auguste Escoffier, the famous Edwardian chef, was key to bringing French cuisine to the fine tables in the grand houses of the Edwardian era. He is credited for narrowing the list to five mother sauces. From these five, many variations, or daughter sauces can be made.
Espagnole sauce is a dark sauce which comes from Spain where Auguste Escoffier discovered it.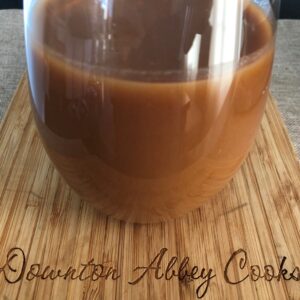 Classic Espagnole Sauce
This is one of the famous five mother sauces created by Auguste Escoffier in the Edwardian era from which 100s of sauces are based. Espagnole sauce is a dark sauce from which demi glace, and a variety of other compound sauces are made.
Ingredients
1

cup

onions

diced

1/2

cup

carrots

diced

1/2

cup

celery

diced

2

tbsp.

butter

clarified

2

tbsp.

unbleached flour

6

cups

beef stock

1/4

cup

tomato purée

1

fresh

bay leaf

1/4

tsp.

thyme

dried

3

fresh

parsley stems
Instructions
Melt the butter over medium heat until it becomes frothy.

Add the chopped vegetables (known as mirepoix) and sauté for a few minutes until lightly browned. Gradually stir in flour until it is fully incorporated and forms a thick paste, called a roux. Lower the heat and cook the roux for another 5 minutes or so, until light brown. The roux will have a slightly nutty aroma at this point.

Slowly add the stock and tomato purée to the roux, whisking vigorously to make sure it is free of lumps. Bring to a boil, lower the heat and add the bay leaf, thyme and parsley, cooking for about 50 minutes or until the sauce has reduced by about one-third, stirring often so it does not burn.

Remove the sauce from the heat, and carefully pour the sauce through a medium sieve lined with a piece of cheesecloth or fine sieve. This will remove any lumps and retrieve the bay leaf, parsley and vegetables.