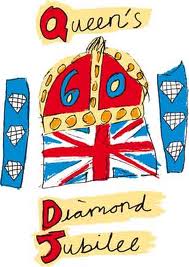 No matter where in the world you live, you have  likely seen enough news coverage to realize that London will be party central this weekend as Queen Elizabeth II celebrates her Diamond Jubilee. Your favorite national news anchor will likely broadcasting live coverage to keep you up to date with all official events.  I attended Golden Jubilee events in London with my parents back in 1977 and recall seeing the royal hand waving as she passed in a motorcade; this year we will be relying on much better coverage on the news, and I am particularly excited to see the Thames Diamond Jubilee Pageant, a flotilla of over 1000 boats along the Thames, one of the largest ever in history.  There is even an App for that.
The Street Party
While the streets of central London will be jammed with tourists, locals will likely be celebrating in their own neighborhood with a traditional summer street party.  A event of this magnitude will spark thousands of street parties as six million Britons plan to hold parties this weekend.
Street parties have a long history in the UK, which took off on a large scale after the signing of the Treaty of Versailles after the World War I.  These have become immensely popular with local residents and businesses, organizing parties to share food and fun with the neighbors.  Now more casual outdoor gatherings, their origins could be traced back to formal public street dinners, organized for such as events as the last Diamond Jubilee celebration organized for Queen Victoria's Diamond Jubilee in 1897.
So what will be served? Fish and chips, served with a cuppa tea, was voted as the most popular food which will be served this weekend.  There are a host of sites offering interesting ideas and recipes.  You can imagine that the food will have patriotic origins and colors, much like how you celebrate: think Fourth of July but with the Union Jack.
But as the commoners are eating together in the streets, what might the Royals be dining on?  We really know so little about the Queen.  She is a "uniquely familiar and entirely unknowable monarch" writes the Telegraph.  It is a delicate dance, to present her as a loving grandmother, as well as Queen of the Castle, and we the dirty rascals.  As a foodie, I often try to imagine her as a person, love to learn more about the foods that she loves to eat, and which dishes are cherished family favorites.
Book Review:  Eating Royally
A great book to help get a glimpse of how Queen and the Royal Family eat is Eating Royally, Recipes and Remembrances from a Palace Kitchen.
Written by Darren McGrady in 2007, he was a Chef to the Royal Family during the Diana years, starting shortly after her marriage to Prince Charles, and served as her personal chef until her untimely death.  He was inspired by her philanthropic efforts and donates his book advances and royalties to the Elizabeth Glaser Pediatric AIDS Foundation because it linked two of Princess Diana's charitable goals—children and AIDS. A gregarious type who now lives in Texas, check out his website; better yet, book him to appear your own corporate or fundraising event.
As with all families, there are favorites which are often requested.  When the family retreats to their beloved Balmoral Castle, they often take to cooking some meals for themselves and many dishes in this book are not that complicated to make.  Although this UK book has conversions, you always need to keep in mind that they measure ingredients by weight (ala Weight Watches) while North Americans by volume so you need to be careful not to confuse an ounce by weight with an ounce by volume.  And I suppose you can't delve into British cuisine without running into some gelatin here and there.  What I found surprising was some of the ingredients used, more handy pantry staples than gourmet ingredients.
Take for example, a dish which was particularly favoured by the Queen Mother.  Oeufs Drumkilbo was a regular dish served on Britannia, and has appeared on the wedding menus of a few royals. Served as a cold appetizer it contains lobster, gelatin, mayo and ketchup.  Still, an interesting recipe to share and add to your garden party repertoire while casually mentioning that you got the recipe from Buckingham Palace.
The book is filled with interesting anecdotes and cooking tidbits like tomatoes must have all the seeds removed before they served to avoid becoming lodged in royal teeth.  Also, instead of perfectly squared crustless tea sandwiches at tea, chefs were instructed that the corners of the thinly cut bread were to be trimmed to create a kind of octagon. Otherwise, they looked too much like a coffin and it meant you wished the Queen ill.
The Queen also loves chocolate, and is fond of chocolate cakes served at tea.  A popular cake with the Royal Family is a particular concoction called a chocolate biscuit cake, most famously chosen as Prince Williams grooms cake. Not really a cake, more a chocolate bar, but who is going to argue with the Queen.  Made with McVities rich tea biscuits, a UK tradition since 1830.  The recipe is also included today.
So instead of fish and chips this weekend, why not give yourself and your family the royal treatment with a couple of great a start and finish dishes.
Ouefs (Eggs) Drumkilbo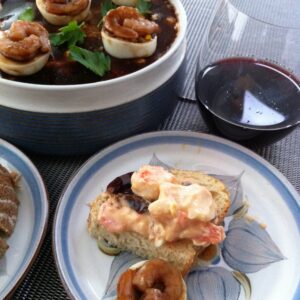 Ouefs (eggs) Drumkilbo
Ingredients
2 (1 1/2 pound)

lobsters,

cooked and cooled

8

hard-boiled eggs,

divded

6

vine-ripe tomatoes

2

cups

mayonnaise

(no fat if you like)

1/2

cup

ketchup

1

tep.

Worcestershire sauce

1

packet

unflavored gelatin

1

cup

sherry

(try white wine or apple juice for non-alcoholic)

6

medium

shrimp

6

parsley sprigs for garnish

salt and freshly ground pepper
Instructions
Remove the meat from the lobster tails and claws, and dice into bite-size pieces. Dice 6 eggs into the same size pieces as the lobster.

Bring 4 cups water to a rolling boil in a heavy-bottomed pan. Cut out the green stem portion of the tomatoes and drop them into the boiling water for about 30 seconds. Remove immediately to ice cold water, and leave for several minutes.

Peel the skins off the tomatoes and dry the tomatoes with paper towels. Cut the tomatoes into quarters, and remove the seeds and membranes. Dice the tomato flesh into the same size pieces as the egg and lobster.

In a large ceramic or glass bowl (not metallic), whisk the mayonnaise, ketchup, and Worcestershire sauce together until combined. Add the lobster, egg, and tomato, and fold together gently. Taste and season with salt and pepper. Spoon the egg and lobster mixture into an ornate glass dish, and smooth the top to make it level.

Soften the gelatin with the sherry in a small pan. If you want a translucent looking gel, use a lighter fino or white wine. Place over a low heat, and stir until dissolved. Spoon a thin layer of the sherry over the top of the egg and lobster mixture and refrigerate the dish until the layer has set.

Using an egg slicer, cut six circles of egg from the remaining two eggs. Brush the tops of each egg slice with some of the remaining warm gelatin. Cut each of the shrimp in half lengthwise, dip into the gelatin, and arrange neatly on an egg slice. Refrigerate until set, and then lift each egg and shrimp garnish to decorate the egg and lobster salad. Garnish with 1 sprig parsley.

Serve as an appetizer with lemon wedges and sliced and buttered brown bread.
Chocolate Biscuit Cake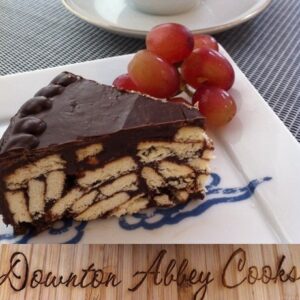 Royal Chocolate Biscuit Cake
This cake is a palace favorite and was Prince William's Grooms Cake. Best part is that there is no baking involved.
Ingredients
½

teaspoon

butter or spray

8

ounces

McVities Rich Tea Biscuits

(about 1 roll less a few cookies for snacking)

½

stick (4 tablespoons)

unsalted butter

softened

½

cup

Granulated sugar

(or sugar substitute)

4

ounces(3/4 cup)

quality dark chocolate

1

egg

beaten

6

ounces (1.5 cups) quality dark chocolate

quality dark chocolate

1/2

cup

whipping cream

(or plain non fat yoghurt)

1

ounce

white or dark chocolate

for decoration
Instructions
Lightly grease a small (6 x 2½-inch) spring form pan with ½ teaspoon butter or cooking spray.

Break each of the biscuits into almond-size pieces by hand and set aside.

Cream the butter and sugar in a bowl until the mixture is a light color.

Melt the 4 ounces of dark chocolate in a double boiler.

Add the butter and sugar mixture to the chocolate, stirring constantly.

Add the egg and continue stirring. Fold in the biscuit pieces until they are all coated with the chocolate mixture.

Carefully spoon the chocolate biscuit mixture into the prepared spring form pan, working to ensure you get the mixture into the nocks and crannies as best as you can.

Even out the top as it will be the bottom of the cake when you finish.

Chill the cake in the refrigerator for at least three hours.

Remove the cake from the refrigerator, and let it stand while you melt the 8 ounces of dark chocolate for icing.

Slide the ring off the cake and turn the cake upside down.

Melt the extra dark chocolate and dairy product in a metal bowl set over simmering water on the stove. Take off the heat and let thicken to spreading consistency. You can now cammoflage any gaps and the ganache will harden when it sets.

This is what Prince William's Grooms Cake looked like.
Notes
As you can see there is no flour or leavening, so think chocolate covered tea biscuits shaped into a cake if you eat is right away.  Leave it for a few days and the cookies soften to give it more of a lovely cake texture.  The recipe calls for a 6 inch spring form pan so to get the same volume if you want to use a standard 9 or 10 inch spring form pan, you will need to double the recipe.  This "cake" will freeze well for your next garden or tea party.
Downton Downtime: Eating Royally