This dessert is a simple sweet treat that suits both upstairs and downstairs guests.  Oreos are very period-appropriate. In 1912, Nabisco created a wonderful new biscuit that we know and love: a cookie with a cream filling sandwiched between two chocolate disks. While an American biscuit, who says Martha or her maid wasn't packing a box or two when they visited Downton?
Melting chocolate wafers come in different colors so you can easily co-ordinate to the time of year: Christmas, Valentine's Day, Easter.   I have also catered special "40" and "50" milestone birthdays, made cancer ribbon cookies. See the pics below.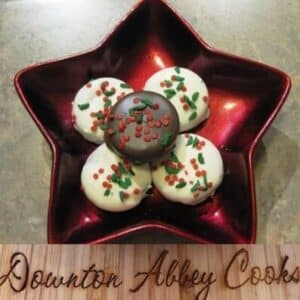 Festive Chocolate Dipped Oreos For all Seasons
The Oreo Biscuit was first introduced in 1912. This sweet treat can be customized to suit a number of occasions and is a bit of a shortcut but still period appropriate for your Downton entertaining.
Ingredients
24

Oreo Cookies

1–2

cups

chocolate melting wafers

white or brown

½

cup

white chocolate melting wafer or chips

optional

2

tbsp.

sprinkles

optional
Instructions
Prepare a cookie sheet lined with parchment paper.

Melt chocolate by placing in a metal bowl over a pot of simmering hot water. Do not let the metal bowl touch the water below.

Lightly tap each Oreo cookie before dipping to ensure that no crumbs enter the chocolate bath.

Drop a cookie into the chocolate bath. Use your dipping fork to rescue the cookie, grasping the "cookie ridge" between the two layers to give you a grip on the cookie.

Gently tap the cookie on the side of the bowl to remove the excess chocolate. Place the cookie on the cookie sheet. If you want to add sprinkles, time to do it before the cookie dries.

Repeat the process for the amount of cookies you wish to make. If you need more chocolate, simply melt more in your pot. If you have extra chocolate you can pour into a plastic container and when it hardens, remove and store in a plastic bag.

If you want to pipe a message in another colour instead of sprinkles, to that once the cookie has dried. Melt chocolate, but don't let it get too hot as it will scorch. pour into a small Ziploc bag and cut off a tiny corner so serve as your piping bag.

Clean up your cookies by running a sharp knife around the edge to clean up any chocolate drips. These cookies will last for at least a month in an airtight plastic container.
Notes