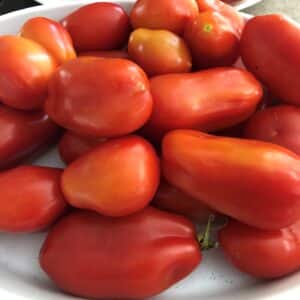 In August it seems like every Italian in the neighbourhood is gathering supplies for sauce production.  But if you only need a few quarts, this is a great recipe to make a small batch.
If you are Italian or have Italian friends you know about the annual tradition for the family to gather at one home and process hundreds of pounds of plum tomatoes into sauce. Everyone has their job on the assembly line and everyone goes home with enough sauce to last the winter.
This is definitely a food bucket list experience. However, if COVID prevents you from gathering, or you have your own small patch of tomatoes (like me) you can make your own sauce on a small scale.
Preserving Italy is a great easy-to-follow book with a total of 150 recipes for conserves, pickles, liqueurs and other sauces like this one.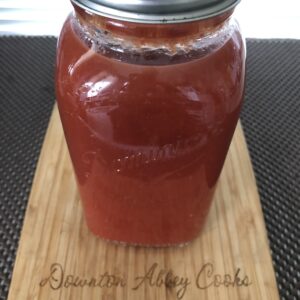 Small Batch Italian Tomato Sauce
Who has the time and the need to make a ton of tomato sauce? This Italian recipe makes 2 quarts
Equipment
2 sterilized 1-quart jars or 4 sterilized 1 pint jars and their lids

tomato or food mill (optional)

slotted spoon

canning equipment

potatoe ricer
Ingredients
8

pounds

plum tomatoes

ripe

1/2

cup

extra virgin olive oil

4

cloves

garlic

lightly crushed

2

tsp.

sea salt

4

leaves

basil

fresh

4

tbsp.

lemon juice
Instructions
Prepare the Tomatoes
Bring a large stockpot of water to a rolling boil over high heat and have ready a large bowl of ice water. While the water is heating, cut a small "X" in the bottom of each tomato. Plunge the tomatoes, in batches if necessary, into the the boiling water and cook for 1 minute. Use a large skimmer or slotted spoon to transfer them into the ice water.
Make the Sauce
For a smooth sauce, drain the tomatoes and then pass them, in batches, through a food mill fitted with the disk with the smallest holes into a bowl, then discard the solids. A potato ricer also works for this job.

OR

For a chunky sauce, drain the tomatoes and then peel off the skins, which should slip off easily. Cut the tomatoes in half lengthwise, remove the core, and scoop out and discard the seeds. Coarsely chop the tomatoes.

In a large heavy-bottomed saucepan or Dutch oven, warm the olive oil and garlic over medium heat. Cook, stirring often, until the garlic is fragrant, 1 to 2 minutes.

Carefully pour in the tomatoes - they will spatter - and stir to combine with the oil. Raise the heat to medium-high and bring to a boil. Then reduce to medium-low and simmer gently for 30 - 40 minutes or until the tomatoes have deepened in color. They should have lost their raw flavour but still have a fresh tomato taste.

Season with salt and continue to cook until thickened to a sauce consistency which should take 10-15 minutes. Discard the garlic cloves, turn off the heat and stir in the basil leaves.
Canning
Pour 2 tablespoons of lemon juice into each quart-sized jar or 1 tablespoon into each pint-sized jar. Funnel the hot sauce into the jars, leaving 1/2 inch head space.

Screw the lids on finger tight and process for 35 minutes in a boiling water bath. Remove the jars and set them upright on a clean kitchen towel. Let cool to room temperature before storing in a cool dark place for up to a year.

Refrigerate after opening and use within 1 week.
Nutrition