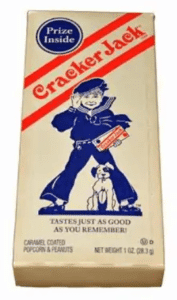 Cracker Jack has a long history.  In the 1870s the German immigrants Frederick and Louis Rueckheim sold popcorn on the streets of Chicago. They began to experiment by combining popcorn with several other products.
When the Columbian Exposition opened in Chicago in 1893, they sold a confection composed of popcorn, molasses, and peanuts, which they prepared in a small factory. After the exposition, orders for the confection rose.
The Rueckheims increased production, repackaged the product so that it would stay fresh, named it Cracker Jack, and promoted it nationwide.
Why Cracker Jack?
There are conflicting stories about where the name came from.  The most common story is that salesman John Berg exclaimed the taste as "That's crackerjack". The   term "cracker jack" was commonly used in slang that meant "first-rate" or "excellent."
Immortalized in Song
Cracker Jack soon became a snack sold at circuses, fairs, and sporting events, like baseball. In 1908, the lyricist Jack Norworth and the composer Albert von Tilzer immortalized Cracker Jack in their song, "Take Me Out to the Ball Game"…
Unlike other fad foods, Cracker Jack survived. Throughout the early twentieth century the company expanded, opening operations in Canada and the United Kingdom.
By 1913 Cracker Jack was the world's largest-selling commercial confection.  A major reason for its longevity was extensive national advertising, specifically focused on children, which included the small toy in every package.
Make your Own at Home
Sadly in recent decades sales of Cracker Jack have declined as other competing popcorn products have immerged. I have fond memories of Halloweens when we could get a few boxes of Cracker Jacks in our haul, but it can even be hard to find on store shelves these days.
However, you can bring back the unique molasses taste by making your own. This recipe comes from Todd Wilbur who is dedicated to replicating popular commercial foods with natural ingredients.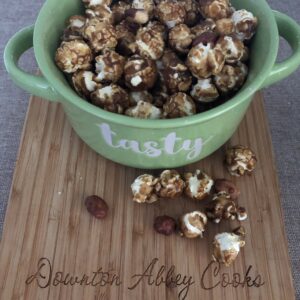 Make Your Own Cracker Jack
You can make your own Cracker Jack, a popular snack made of popcorn and molasses first sold on Chicago's streets by German immigrants in the 1870s.
Ingredients
15

cups

popped popcorn

1

cup

roasted red-skinned cocktail peanuts

4

tablespoons

butter

1

cup

dark brown sugar

1/2

cup

light corn syrup

2

tbsp.

molasses

1/4

tsp.

salt
Instructions
Combine the popcorn and peanuts on a greased rimmed cookie sheet and place it in the preheated oven.

Combine all the remaining ingredients in a saucepan.

Stirring over medium heat, bring the mixture to a boil.

Using a candy or instant read thermometer, bring the mixture to 290 F, or just under the hard-crack stage, the point at which the syrup when dripped into cold water, forms a hard but pliable ball.

This will take about 20-25 minutes (or until you notice the mixture turning a slightly darker brown).

Remove the popcorn and peanuts from the oven and working quickly, pour the caramel mixture in a fine stream over them, covering as much as you can and stir to coat.

Put the sheet back into the oven. Mix again in five minutes to esure all the popcorn and peanuts are covered.

Let cool, break into pieces and serve.

Store any leftovers in a covered container so it keeps fresh.
Nutrition
Serving:
0.25
cup
Calories:
218
kcal
Carbohydrates:
35
g
Protein:
4
g
Fat:
8
g
Saturated Fat:
3
g
Polyunsaturated Fat:
2
g
Monounsaturated Fat:
3
g
Trans Fat:
1
g
Cholesterol:
8
mg
Sodium:
73
mg
Potassium:
158
mg
Fiber:
3
g
Sugar:
25
g
Vitamin A:
115
IU
Calcium:
30
mg
Iron:
1
mg