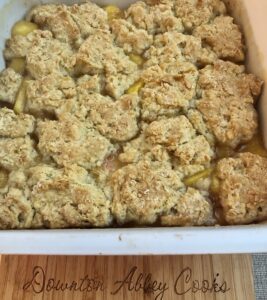 While sweetened juicy peaches tucked under a blanket of tender biscuit is a treat easily enjoyed today, peach cobbler was once a dessert deemed a luxury, its flavors and costly ingredients far out of reach for all but the most privileged classes in the 19th century.
There are a few reasons why:
Cost of ingredients: Peaches and white sugar were more expensive ingredients at the time. Poorer households would likely use preserves or cheaper fruits like berries.
Time to prepare: Cobblers take time to assemble and bake, something working class households especially on farms would have less of. Quick breads or puddings were more common.
Kitchen tools needed: Making cobbler dough requires dry ingredients like baking powder, bowls, utensils, and an oven. Poorer households lacked much of this kitchen equipment.
Occasions to serve: Cobblers were considered fancier fare reserved for special occasions or impressing guests. Lower classes had less opportunity for entertaining guests with elaborate desserts.
While cobbler wasn't impossible for less affluent families, it would have been an infrequent treat. More common peasant desserts included rice pudding, bread pudding, fried doughnuts or fruit crumbles using seasonal berries or apples. Simple pies with a lard or cornbread crust were also affordable to make.
However, as ingredients became less expensive towards the late 19th century, cobbler would have become more accessible to the average American household, making it the beloved comfort food it is today!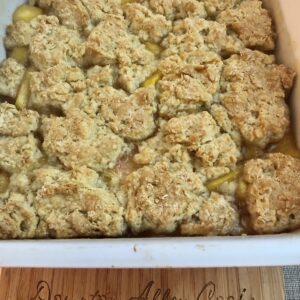 Gilded Age Peach Cobbler
This simple yet elegant cobbler was popular in upper class homes during the late 1800s. The sweet peach filling and fluffy biscuit topping makes a delightful dessert perfect for entertaining Gilded Age guests. Enjoy a taste of history!
Equipment
1 baking dish

1 pastry cutter
Ingredients
5

Large

fresh peaches

peeled, pitted and sliced into wedges

1/2

Cup

sugar

2

Tbsp.

water

1/2

Tsp.

ground cinnamon

1

Cup

all-purpose flour

2

Tsp.

baking powder

1/4

Tsp.

salt

3

Tbsp.

cold butter

cut into small pieces

1/3

cup

milk
Instructions
Preheat oven to 350°F. Grease a 2-quart baking dish.

In a saucepan, combine the peach slices, sugar, water and cinnamon. Cook over medium heat for 5 minutes, stirring occasionally, until the peaches begin to release their juices. Pour into prepared baking dish.

In a bowl, whisk together the flour, baking powder and salt. Using a pastry cutter or fork, cut in the cold butter until mixture resembles coarse crumbs. Stir in milk just until combined.

Drop large spoonfuls of the flour mixture over the peaches, spacing evenly apart.

Bake for 30-35 minutes until the biscuits are puffed and golden brown. Allow to cool at least 15 minutes before serving.

Serve warm with lightly sweetened whipped cream or vanilla ice cream.
Nutrition
Serving:
20
G
Calories:
396
kcal
Carbohydrates:
73
g
Protein:
6
g
Fat:
11
g
Saturated Fat:
6
g
Polyunsaturated Fat:
1
g
Monounsaturated Fat:
3
g
Trans Fat:
0.4
g
Cholesterol:
26
mg
Sodium:
489
mg
Potassium:
337
mg
Fiber:
4
g
Sugar:
44
g
Vitamin A:
1025
IU
Vitamin C:
9
mg
Calcium:
193
mg
Iron:
3
mg