Food historians can't agree on the exact orgins of Mayonnaise but do tend to agree on the country:  France. It is thought that the word comes from the French word  "moyeunaise", derived from the very old French word "moyeau", which means yolk of egg.
All mayo is egg yolk and oil which has been emulsified. So why buy from a store then it takes less than 10 minutes to make and more delicious than store-bought.  It does come in handy in the summer when you are preparing a number of mayonnaise-based salads.
This version uses the whole egg which makes it less fussy to work with so you don't have to worry about the sauce separating.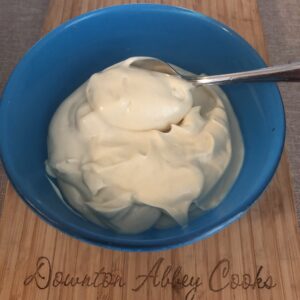 Make your Own Mayonnaise in Minutes
Mayonnaise takes less than 10 minutes to make and more delicious than store-bought.
Ingredients
2

large

eggs

room temperatue

2

tbsp.

Dijon mustard

2

tbsp.

red or white wine vinegar

1/2

tsp.

kosher salt

or more to taste

2

cups

canola or vegetable oil

2

tsp.

fresh lemon juice

optional
Instructions
You can whisk by hand, but easier done with a hand blender or in a food processor. All your ingredients need to be at room temperature to get the best results.

Beat the raw eggs for 20 seconds Add the mustard, vinegar, and salt and beat for another 20 seconds.

Slowly drizzle the oil, in drops at first for the first 1/2 cup beating as you go. Once incorporated you can increase the flow to a thin stream. Like magic the mixture will thicken and will emulsify.

Once thick you can stop beating. Taste for seasoning and add more salt or vinegar to taste.

Pour into a jar with a lid and store in the fridge. It should keep for at least a week.