This pudding was prepared by Royal Chef Darren McGrady for Princess Diana, who loved this dish, which is like crème brûlée on steroids. It really is that good and a wonderful dish for that special dinner party.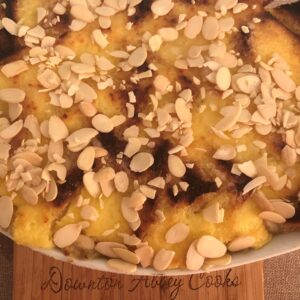 Princess Di's Favorite Bread Pudding
This pudding was prepared by Royal Chef Darren McGrady for Princess Diana, who loved this dish, a cross between bread pudding and crème brûlée. It is really that good.
Ingredients
3

ounces

raisins

1/4

cup

amaretto

12

slices

white bread

1 1/2

cups

unsalted butter

melted

9

large

egg yolks

2

tsp.

vanilla extract

3/4

cup

sugar

1/2

cup

milk

2

cups

whipping cream

2

tbsp.

sugar

3

ounces

flaked almonds

lightly toasted

2

tbsp.

icing sugar
Instructions
Soak the raisins in the Amaretto, and leave covered with plastic wrap at room temperature 6-8 hours or overnight.

Preheat the oven to 350F. Butter a large casserole dish. Cut 4 slices of the bread into 1/2 inch cubes, and spread the cubes on the bottom of the dish. Sprinkle the raisins and the liquid on top of the cubes. Cut the remaining bread in half diagonally and then each half slice again on the diagonal so you have equally sized triangles. Dip the triangles into the melted butter and then arrange on top the of the raisins, overlapping slightly. Pour any remaining butter over the top of the bread.

Whisk the yolks, vanilla and sugar in a large bowl until combined. Bring the milk and cream to boil in a heavy saucepan over high heat, and pour the hot mix onto the egg yolks, whisking constantly. Pour the warm egg mixture over the bread, ensuring it is all covered. Set aside for 20 minutes to allow the egg mixture to soak into the bread.

Place the casserole dish into a roasting pan, filling the pan with hot water until it reaches halfway up the sides of the dish. Bake for 30 to 40 minutes or until golden brown on top with the filling just set.

Set your oven to broil Remove the dish from the oven and the roasting tray, then sprinkle with the extra sugar. Broil to caramelize the sugar. Sprinkle with the toasted sliced almonds and dust with powered sugar.

Cool slightly then serve with a jug of heavy cream and some fresh berries.