Roly-Poly pudding first became popular with Victorians.  Typically a sweet dish, it can also be made savoury. Similar to a swiss roll, roly-poly is a suet pudding which is made into a roll shape. Sweet fillings include jam, treacle and breadcrumbs, or marmalade mixed with dried fruits.
It is steam baked in the oven.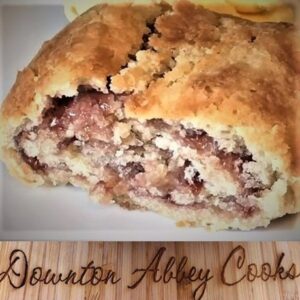 Round and Round with Roly Poly
This dish dates back to the Victorians. Similar to a swiss roll, roly poly is a suet pudding which is made into a roll shape
Ingredients
1 3/4

cups

all-purpose flour

3 1/2

tsp.

baking powder

1

pinch

salt

2

ounces

sugar

4

ounces

shredded suet* 

vegetarians may substitute vegetarian suet

6-8

tbsp.

water

5

tbsp.

jam

warmed
Instructions
Preheat the oven to 400F. Prepare a large rectangle of tin foil and place a sheet of parchment paper on top. Grease the parchment paper and put aside. You will also need a loaf pan and wire rack to steam the pudding.

In a medium-sized bowl sift the flour, baking powder and salt, then add the sugar. Mix in the suet and add just enough water to create a soft dough.

Place the dough onto a floured work surface and roll out into an 8"x 11" rectangle. Brush on the warmed jam, leaving a 1/2 inch border on all edges.

Roll up the dough from the short edge. Place the roll on the parchment/tinfoil sheet with the seam side down. Bring up the long sides of the tinfoil to meet, then roll the edges loosely to close. The pudding while expand when baking so not too tight. Twist each end so you have a long cigar.

Fill the loaf pan half full with boiling water and place the wire rack on top. Place your roll on top and then place it in the middle rack of your oven for 45 minutes.

Enjoy warm with custard or ice cream.
Notes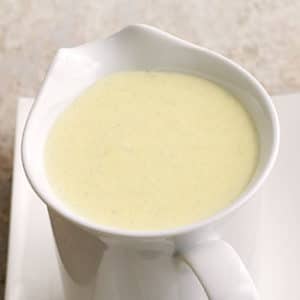 Luscious Low Fat Custard Sauce
Just because you are following a low fat, heart healthy lifestyle does not mean you have to give up dessert sauces. You will love this great sauce.
Ingredients
3

cups

skim milk

divided

2

large

eggs

separated

1/3

cup

cornstarch

1 1/2

tbsp.

vanilla extract

2/3

cup

sugar substitute

Stevia

1/4

tsp.

cream of tartar

or white vinegar

3

tbsp.

water
Instructions
Whisk together 1/4 cup milk, egg yolks and cornstarch in a large bowl. Heat remaining milk in a heavy saucepan until steaming.

Gradually whisk milk into the egg mixture. Return to the saucepan; cook over medium heat, whisking constantly, until the custard boils and thickens, 1 to 2 minutes. Remove from the heat, stir in vanilla.

Combine egg whites, sugar, cream of tartar and water in a heatproof mixing bowl large enough to fit over the saucepan of simmering hot water.

Set the bowl over the water and beat with an electric mixer at low speed, moving the beaters around the bowl constantly, until an instant-read thermometer registers 140°F (this will take 3 to 5 minutes).

Increase the mixer speed to high and continue beating over the heat for a full 3 1/2 minutes. Remove the bowl from the heat and beat the meringue until cool, about 4 minutes.

Fold the meringue into the egg yolk mixture.

Transfer to a clean bowl and place plastic wrap directly on the surface of the custard to prevent a skin from forming. Set aside to cool slightly.
Nutrition
Serving:
20
g
Calories:
209
kcal
Carbohydrates:
79
g
Protein:
5
g
Fat:
2
g
Saturated Fat:
1
g
Polyunsaturated Fat:
0.2
g
Monounsaturated Fat:
1
g
Cholesterol:
72
mg
Sodium:
69
mg
Potassium:
231
mg
Fiber:
0.2
g
Sugar:
4
g