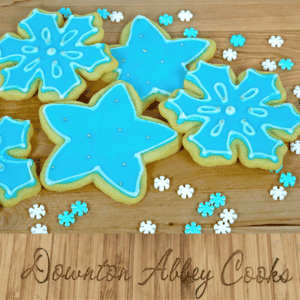 There is nothing like a good sugar cookie recipe. The little white dress of the baking world, you can dress it up for any holiday, every occasion. This great recipe comes from NYTimes Cooking.
History of Sugar Cookies in America
Sugar cookies are a treat to bake, share and enjoy with loved ones throughout the holiday season. They're fun to decorate and easy to make using just a few simple ingredients. Not surprisingly, nature's oldest sweetener is one of them. Sugar is responsible for much more than the cookies' taste (and name).
In English cookbooks, precursors to sugar cookies were known by many names, most often: jumbal, jumble, jambal, jemelloe, gemmel.  Jumbals were hard spiced biscuits. They were baked thick to make them suitable for journeys and could be stored for about a year. They were also typically twisted into knots, presumably to make them a little easier to break and eat.
The modern sugar cookie was originally called the Nazareth Sugar Cookie, after German Protestants settled in Nazareth, Pennsylvania and improved the recipe in the 1700s. When forming the dough, they made the cookies resemble the state's keystone emblem.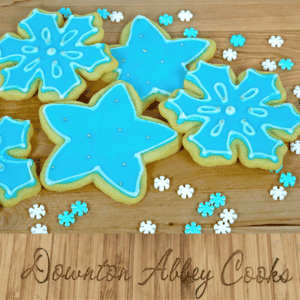 Classic Sugar Cookies
Everyone should have a good sugar cookie recipe at their disposal. You never know when you need to bake up a batch of celebratory treats.
Ingredients
3½

cups

all-purpose flour

1

tsp.

baking powder

1

tsp.

kosher salt

1½

cups

unsalted butter

at room temperature

1¼

cups

granulated sugar

2

large

leggs

1

tsp.

vanilla extract

Frosting

glaze or royal icing
Instructions
In a large bowl, whisk together flour, baking powder and salt.

In another bowl, using an electric mixer, beat together butter and sugar on medium-high until the mixture is light, fluffy and pale, 2 to 3 minutes. Scrape down sides of the bowl, and add eggs, one at a time, beating well after each addition. Add vanilla, and beat until everything is well combined, stopping to scrape down the bowl as needed.

Add dry ingredients all at once, and mix on low speed just until incorporated.

Scrape dough out of bowl and divide it in half. Wrap each piece in plastic wrap, patting into a 1-inch-thick disk. Chill at least 2 hours and up to 5 days.

Heat oven to 325 degrees. Roll out dough, one disk at a time, on lightly floured parchment paper or work surface until it's about ⅛ inch thick. Create shapes, using a lightly floured cookie cutter. (Alternatively, using a knife, cut the dough into squares, rectangles or diamonds.) If at any point the dough becomes too soft to cut and cleanly remove from parchment paper, slide it onto a cookie sheet and chill for a few minutes in the freezer or refrigerator. Gather any dough scraps and combine them into a disk. Roll and repeat the cookie-cutting process, chilling as necessary.

Place shapes onto parchment-lined baking sheets 1 inch apart and bake until cookie edges are lightly browned with sandy, pale centers, 12 to 15 minutes, rotating the sheets halfway through.

Cool the cookies on a rack, if you have one. Otherwise, let them cool on the pan.

Decorate with a glaze, royal icing, frosting, glitter, food-grade luster dust or whatever you'd like. Don't forget the sprinkles.
Notes
Cookie dough can be made 5 days ahead and refrigerated. Cookies can be baked 2 days ahead, wrapped tightly and stored at room temperature.