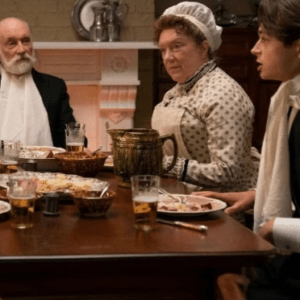 The highly anticipated second season of HBO's historical drama The Gilded Age premiered this week, transporting viewers back to the extravagant world of New York City's upper crust in the late 19th century. While the wealthy characters upstairs get the lavish costumes and dramatic storylines, just as much intrigue brews below stairs among the domestic staff.
The show's lavish sets and costumes immerse us in the wealth and opulence of the city's elite during the turbulence of the Gilded Age. Elegant dinners served in mansions showcase the luxurious lifestyles of characters like railroad tycoon George Russell and old-money socialite Agnes van Rhijn. But they are only possible thanks to entire teams of cooks, servants, and footmen working downstairs.
While the upstairs dinner guests plot and gossip under the chandeliers, the servants make and serve their meals, all while dealing with their own downstairs drama. Cook's assistant Clara schemes for a promotion, while Mrs. Bruce tries to maintain order and standards. The staff must unite to reach perfection for demanding employers, even as romantic rendezvous and jealous feuds threaten to spill over upstairs.
At the more modest Van Rhijn household, German Cook Mrs. Bauer handles the cooking with maid Bridget and a skeletal team. The portions are simpler, but family tensions around new money vs. old seep through the floors from above. Even in smaller settings, staff grapple with workplace disputes and keeping secrets that could ruin reputations if they dared speak out.
The spectacles served at Gilded Age dining tables relied not just on the wealth upstairs, but the teamwork and discretion of staff downstairs. And while the extravagant balls and meals were for high society, the realities of immigrant and minority workers were far from the elite experience. The show could pull back the curtain more on the workers fueling Gilded Age extravagance from the shadows.
For a true peek into this fascinating era, we must remember the skillful orchestra of staff who made the dazzling rituals possible. So next time we escape into the rarified world of The Gilded Age, appreciate not just the crystal and costumes, but the many hands and stories that made it all possible both upstairs and down.