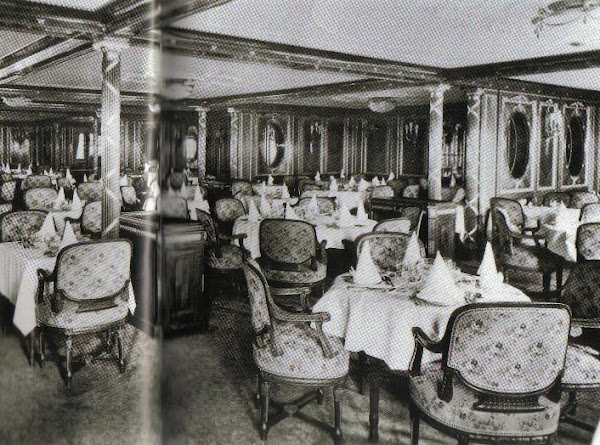 While many of us are celebrating Easter Monday with family and friends, enjoying the last of the hot cross buns, we are reminded that one hundred years ago today final arrangements were being made to prepare Titanic for its maiden voyage. The RMS Titanic was a British registered four funneled (only 3 worked, the other was for show) ocean liner built for the transatlantic passenger and mail service between Southampton and New York. There are many stories surfacing this week in the news about Titanic. There is also plenty to see in Prime Time. In Canada, CBC produced the docu-drama Waking the Titanic (click to view the video); The Miami Herald has a great list of the many different Titanic-based offerings.
Titanic Mini-Series is getting better with age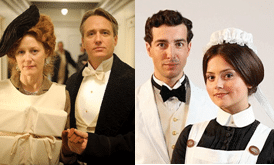 As a fan of Julian Fellowes' work I was excited at the privilege of being part of the first audience to view his new mini-series Titanic 2012. The four part series has been broadcast as separate one hour installments in Canada on Wednesdays, and in the UK on Sunday nights. ABC is planning to air 3 episodes April 14th, and I believe we all get to see the finale on the 15th. I found the 1st episode served up as a disappointing first course, the 2nd slightly better, but the 3rd course more enjoyable. So, to those of you in the US, enjoy seeing the series back to back, I think that is the way it was intended to be shown. I echo the sentiments in yesterday's Huffington Post article; stories of 1st and 2nd class passengers are not as interesting as the ones presented from 3rd class and crew. A budding romance between an Italian steward and stewardess is far more entertaining than the stuffy upstairs relationship of Lord and Lady Manton or 2nd class bantering Batleys. Then there's the mysterious Peter Lubov, the cop killer who boarded Titanic to escape his past. Will foul play follow him?
Would you Like Your Poultry Small, Medium or Large?
With time running out and still a few more dishes to blog about from the 1st, 2nd and 3rd class (steerage) menus, I will be doing some grouping these final few days. Titanic carried 25,000 lbs of poultry and game on board. We have already prepared curried chicken and chicken lyonnaise. Today we will focus on the roasted poultry dishes. In 1st class Duck was offered as a main entree choice, while squab held its own as the seventh course. In 2nd class, diners enjoyed turkey as part of their choice of main dish. On Titanic all the birds would have already been cleaned. At Downton, if this game brought down during a shoot, poor Daisy would have been responsible for plucking and cleaning…a scullery maid's work is never done.
Titanic's Roasted Squab on Wilted Cress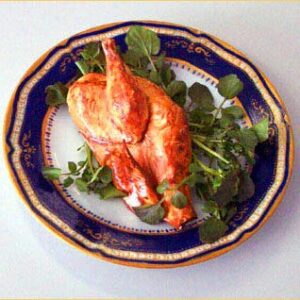 Roasted Squab on Wilted Cress
Titanic carried 25,000 lbs of poultry and game on board. This dish was famously served in 1st class as the seventh course in a marathon 10 course meal. 
Ingredients
6

1 pound

squabs

1

tbsp.

olive or vegetable oil

3

cloves

garlic

minced

1

tbsp.

fresh marjoram

chopped

1/2

tsp.

each salt and pepper

6

slices

side bacon

3/4

cup

Madeira

3/4

cup

red wine

3/4

cup

chicken stock

3

tbsp.

walnut oil

2

cloves

garlic

minced

20

cups

watercress

rinsed

1 1/2

tsp.

lemon juice

fresh

1/2

tsp.

each salt and pepper
Instructions
Prepare Squab
Truss and secure bacon slice over each squab breast. Place in roasting pan and cook in 450°F oven for 15-20 minutes or until juices run pink.

Rinse and pat dry squab, inside and out. In bowl, mix together oil, garlic, marjoram, salt and pepper. Rub over squab, inside and out.

Remove and discard bacon and broil for 2-3 minutes or until well browned.

Remove squab from pan; tent with foil and let rest for 10 minutes.

Place roasting pan over high heat. Stir in Madeira, red wine and chicken stock. Bring to boil, stirring to scrape up any brown bits; cook for 7-8minutes or until reduced to about 1/2 cup. Strain and keep warm.
Watercress
In large pot heat 2 tbsp of the walnut oil over medium heat. Add garlic and cook, stirring for 2 minutes; increase heat to high and add damp watercress.

Cook, stirring for 1 minute or until wilted. Toss with lemon juice, salt, pepper and remaining walnut oil.
Plate and Serve
Place a portion on cress on each plate and then place one squab on top.
Titanic's Calvados Glazed Roast Duckling with Apple Sauce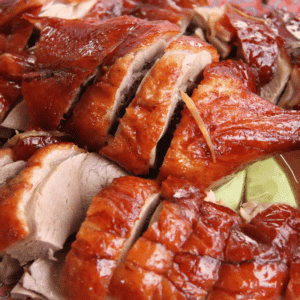 Titanic's Calvados Glazed Roast Duckling with Apple Sauce
This is one of the dishes made famous because it was served in 1st class on the Titanic. It was also prepared for Edith's wedding feast to Lord Strallon in Season 3, which also met with a tragic ending.Calvados is an apple based brandy traditionally made in the Calvados region of Normandy.
Ingredients
1

duckling

(about 4 pounds)

1

tbsp.

chopped fresh thyme

1/2

tsp.

salt

1/2

tsp.

pepper

2

shallots,

peeled & halved

1

small

tart apple cored & quartered

1/2

cup

chicken broth

1/2

cup

calvados or apple cider

1/2

cup

brown sugar
Apple Sauce
1

tbsp.

vegetable oil

2

small

shallots,

peeled, ends removed, finely chopped

1

tsp.

sugar

1

tsp.

cider vinegar

2

large

tart apples,

peeled, cored & chopped
Instructions
Remove giblets and neck from duck, rinse and pat dry inside and out.

Trim excess fat from both ends of cavity. In small bowl, stir together thyme, salt and pepper, rub all over duck, inside and out. Place shallots and apple inside cavity. Using poultry pins or basting needle, truss cavity closed. Twist wing tips behind back.

Place duck, breast side up on rack in large roasting pan. Roast in 425°F oven for 20minutes. Shield breast meat with foil, reduce heat to 350°F and bake for 1houror until instant-read meat thermometer registers 180°F when inserted into leg. Place on heated platter.

Set roasting pan on stove over medium-high heat; skim off fat. Stir in chicken stock and Calvados. Bring to boil, stirring to scape up any brown bits. Boil for 5minutes or until reduced to ½ cup. Stir in sugar and continue to cook for 3-5minutes or until slightly syrupy. Pour into heatproof bowl.

Return duck to roasting pan; remove foil and brush with half the glaze. Bake in 350°F oven for 5minutes and brush with remaining glaze. Roast for 20minutes longer. Increase heat to 475°F and cook for 5minutes or until skin is well browned and crisp. Remove to heated platter, tent with foil and let rest for 20minutes.
Apple Sauce
While duck is resting, prepare the applesauce. In a heavy-bottomed saucepan, heat the vegetable oil over medium heat. Add the shallots and saute 5minutes or until they are softened.

Sprinkle the sugar over the shallots and continue sauteing them, stirring often, for 5minutes or until shallots are well browned and very soft.

Stir in the cider vinegar and apples. Reduce heat slightly. Cover and cook 7-8minutes or until apples are tender. Mash mixture until smooth and serve with duck.
Roast Turkey with Cranberry Sauce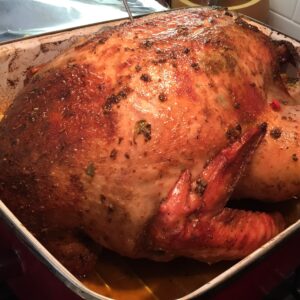 How to Cook a Great Roast Turkey
Roasting a Turkey is a right of passage for young cooks. But when you follow these easy steps you will learn it isn't that hard.
Ingredients
1

tbsp.

vegetable oil

14

pound

turkey

3

tbsp.

unsalted butter

softened

2

tsp.

fresh herbs (parsley, thyme, sage)

finely chopped

2

tbsp.

kosher salt
Instructions
Fresh organic turkeys yield the best results. At the Edwardian country house, the cook would delegate the job of plucking an estate-raised turkey. The feathers would be passed on for use in feather beds.
Thawing a Frozen Turkey
If you don't raise turkeys at your Abbey, or didn't get your order in at your local butcher, you can still produce a perfectly tasty turkey which has been frozen. Whatever your choice, remember to take note of the weight of the turkey to help you plan the timing of your meal.

Safely defrosting your turkey does take some preplanning… and room.

Keep the turkey in the wrapper:

• The safest method is to defrost it in your refrigerator. As a general rule, it takes 5 hours per lb. (11 hours per kg) so you are looking at almost 3 days sitting in your refrigerator in a deep pan.

• The next best method for defrosting a turkey is to thaw the bird in ice-cold water, which takes 30 minutes per lb. (65 minutes per kg). Place the turkey breast side down in a tub or sink full of ice-cold water.
Prepare for Roasting
Preheat the oven to 325°F/160°C/Gas 3. Bring out a large heavy roasting pan with roasting rack.

If this is your first turkey, there is a surprise waiting for you inside the bird's cavity. Reach inside the bird to remove a package which will contain the neck, giblets, and tail. You can save these to make a broth for Turkey Pan Gravy.

Rinse the turkey well inside and out and pat it dry thoroughly with paper towels. Be sure to limit what you touch when you are working with raw poultry and thoroughly disinfect all surfaces when you are done.

Rub the turkey all over with olive oil, which helps the turkey brown evenly. Mix the herbs into the softened butter. Loosen the skin on the breast and carefully rub the butter mixture between the skin and breast. This will help keep the breast meat moist. Sprinkle the turkey with salt to help crisp the skin.
Stuff the Turkey
When you are ready to put the turkey in the oven, loosely insert the stuffing of your choice in the large cavity and under the loose skin left from the neck.

NEVER stuff your turkey in advance to save time later. The build-up of bacteria could easily cause food psioning.

Tuck the wings under the turkey.

While the Edwardians and your mothers might have trussed their turkeys (tied the legs neatly together) it really was only for appearances. Trussing prevents hot air from circulating around the legs, causing the turkey to cook unevenly. So feel free to skip this step.

Place the turkey, on a V-shaped rack in your roasting pan breast up. Baste the turkey every 30 minutes or so with oil, butter, or pan drippings and rotate the pan occasionally for even browning.

Continue roasting until a thermometer inserted in the thickest part of the thigh reads 170°F/75°C, around 3–3½ hours, depending on the size of your turkey and the heat of your oven.

Transfer the turkey to a carving board or platter, tent it loosely with tin foil and let rest for at least 20 minutes.
Keep your Turkey Warm for Hours
If you need the oven for other dishes, you can make your turkey earlier in the day, and add thick kitchen towels to your tin foil tent. Your turkey will keep toasting warm for hours.
Nutrition
Serving:
500
g
Calories:
791
kcal
Carbohydrates:
0.003
g
Protein:
103
g
Fat:
39
g
Saturated Fat:
13
g
Polyunsaturated Fat:
10
g
Monounsaturated Fat:
12
g
Trans Fat:
0.1
g
Cholesterol:
384
mg
Sodium:
1536
mg
Potassium:
1440
mg
Sugar:
0.003
g
Vitamin A:
127
IU
Calcium:
91
mg
Iron:
9
mg