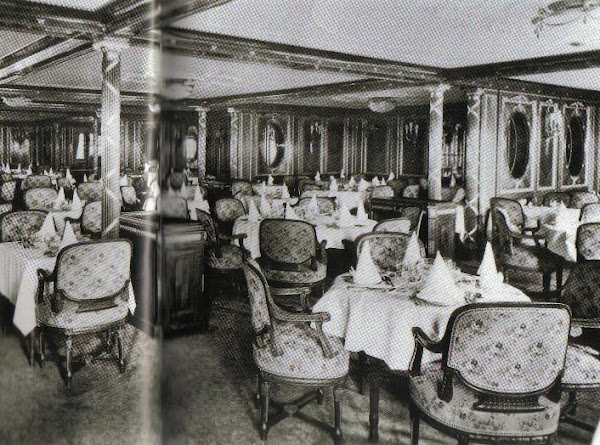 While many of us are celebrating Easter Monday with family and friends, enjoying the last of the hot cross buns, we are reminded that one hundred years ago today final arrangements were being made to prepare Titanic for its maiden voyage. The RMS Titanic was a British registered four funneled (only 3 worked, the other was for show) ocean liner built for the transatlantic passenger and mail service between Southampton and New York. There are many stories surfacing this week in the news about Titanic. There is also plenty to see in Prime Time. In Canada, CBC produced the docu-drama Waking the Titanic (click to view the video); The Miami Herald has a great list of the many different Titanic-based offerings.
Titanic Mini-Series is getting better with age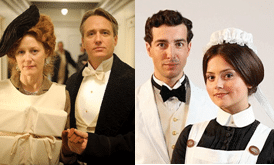 As a fan of Julian Fellowes' work I was excited at the privilege of being part of the first audience to view his new mini-series Titanic 2012. The four part series has been broadcast as separate one hour installments in Canada on Wednesdays, and in the UK on Sunday nights. ABC is planning to air 3 episodes April 14th, and I believe we all get to see the finale on the 15th. I found the 1st episode served up as a disappointing first course, the 2nd slightly better, but the 3rd course more enjoyable. So, to those of you in the US, enjoy seeing the series back to back, I think that is the way it was intended to be shown. I echo the sentiments in yesterday's Huffington Post article; stories of 1st and 2nd class passengers are not as interesting as the ones presented from 3rd class and crew. A budding romance between an Italian steward and stewardess is far more entertaining than the stuffy upstairs relationship of Lord and Lady Manton or 2nd class bantering Batleys. Then there's the mysterious Peter Lubov, the cop killer who boarded Titanic to escape his past. Will foul play follow him?
Would you Like Your Poultry Small, Medium or Large?
With time running out and still a few more dishes to blog about from the 1st, 2nd and 3rd class (steerage) menus, I will be doing some grouping these final few days. Titanic carried 25,000 lbs of poultry and game on board. We have already prepared curried chicken and chicken lyonnaise. Today we will focus on the roasted poultry dishes. In 1st class Duck was offered as a main entree choice, while squab held its own as the seventh course. In 2nd class, diners enjoyed turkey as part of their choice of main dish. On Titanic all the birds would have already been cleaned. At Downton, if this game brought down during a shoot, poor Daisy would have been responsible for plucking and cleaning…a scullery maid's work is never done.
Titanic's Roasted Squab on Wilted Cress
Titanic's Calvados Glazed Roast Duckling with Apple Sauce
Roast Turkey with Cranberry Sauce