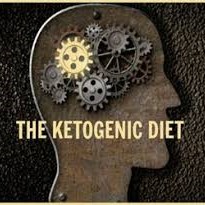 You may wonder why a cookery site dedicated to early 20th-century cuisine also contains keto recipes that have become a popular weight loss regime.  It may surprise you to know that a ketogenic eating strategy was used as a medical treatment for patients with epilepsy as early as 1911 in France.
History of Ketogenic Diet
While the term 'ketogenic' wasn't used until the 20th century, there's a historical precedent for fasting for health. Ancient Greek physicians advocated for restricting one's diet to treat diseases like epilepsy and other health problems, and fasting was considered to be integral to a healthy lifestyle. In fact, fasting is the only epilepsy treatment recorded by Hippocrates, and it was standard practice across much of the world for over two thousand years.
While most people today start the ketogenic diet to lose weight or otherwise improve their health, the eating strategy originated as a treatment for epilepsy. The research story begins with the first modern study of fasting and its role in epilepsy, which took place in France around 1911. The study found that epilepsy patients who consumed low-calorie diets combined with periods of fasting experienced fewer seizures and had fewer adverse health effects from the condition.
Around the same time, an American osteopathic physician named Hugh Conklin began to recommend fasting to his epileptic patients to help them get their seizures under control. Using a method that caused epileptic patients to fast for 18-25 days at a time, he boasted a 50 percent success rate for adults, and as high as 90 percent for children.
What is Keto?
At a basic level, the ketogenic diet is rooted in the idea that limiting your carbohydrate intake and consuming fats instead will put your body in a "fasted state" where it will burn ketones instead of glucose- resulting in better health for you.
The central idea is that following a meal plan that's 60-75% fat, 15-30% protein, and 5-10% carbs put the body in a state called ketosis. While your system primarily chooses to run on glucose (sugar), restricting your carbohydrate intake will cause it to feel that it's starving, so it will generate a secondary energy source from fat to continue sending glucose to the brain. When you limit your carb supply, your body starts to break down fat into compounds called ketones, which are an alternative fuel source that many people believe has impressive benefits for your health and weight.
My Keto Recipes
I switched from a low-fat diet to keto in 2017 and lost 15 pounds and still feel energized. The lure of bacon was enough to convert me!  Lord D still follows a heart-healthy low-fat diet since keto was not for him.  As a baker, it was not hard to find recipes that appealed to me.
Follow this link to find keto recipes on this site.
Even though bacon was a plus I still craved bread. It took me quite a while to find a bread recipe that actually tasted like bread.  It is soft, not dense and makes a full loaf pan. I use the same recipe to make buns for snacking and for hamburgers.
Enjoy and be healthy.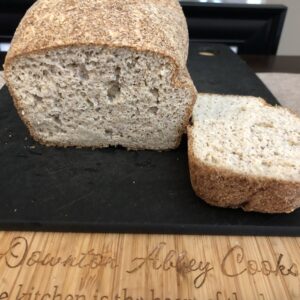 The Best Keto Bread
Now that Keto has gone main stream, you can purchase low carb breads, but they are very expensive. It took some time, but I finally created a bread which is both filling and tasty.
Ingredients
1

cup

psyllium husk powder

pulse in a coffee grinder or food processor to make super fine

3

cups

almond flour

3/4

cup

coconut flour

2

tbsp.

baking powder

3

tsp.

salt

3

cups

water

boiling hot

2

tbsp.

apple cider vinegar

9

large

egg whites
Instructions
Preheat the oven to 350 F. Prepare a large loaf pan.

Mix the dry ingredients in a large bowl. Bring the water to a boil.

Add vinegar and egg whites to the dry ingredients, and combine well. Using a mixer, add boiling water and beat for 20 seconds. It should look like Playdoh.

You can brush the top of the bread with a little melted butter or with one reserved egg yolk.

Bake on lower rack in the oven for 1 1/2 - 2 hours. The loaf is done when it sounds hollow when you tap the bottom.
Notes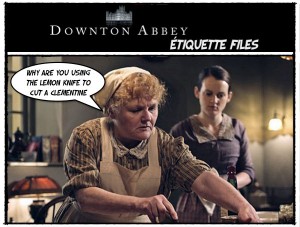 While cooks in Downton's era may not have had exactly the same type of kitchen gadgets, Victorian cooks did start the craze for creating a tool for each job in the kitchen, so I blame our ancestors for my obsession with collecting these time savers.  You can even order this stuff directly from Amazon so you have more time to watch your favorite Downton episode.