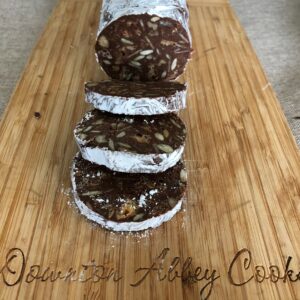 If you're looking for a unique yet simple holiday dessert that will wow your guests, consider Salami di Cioccolato (Chocolate Salami) – an Italian specialty treat made by rolling rich chocolate studded with nuts and cookies into a decadent salami-shaped log.
Salami di Cioccolato holds a beloved place in Italian holiday food traditions. Its signature look shaped into a log and coated with nuts or cocoa powder resembles cured salami sausage, belying the sweet chocolate treat found within. Each December, Italian families diligently prepare this no-bake dessert to serve as the grand finale of feasts or to give as edible gifts. Beyond Italy, Portuguese families have also incorporated Salami di Cioccolato into their own Christmas customs. But its simplicity to make and universally crowd-pleasing flavors have resulted in this Italian dessert becoming recognized and reproduced throughout Europe and across the globe.
While called a salami, the composition of Salami di Cioccolato actually resembles a dense, fudgy rocky road candy. Its base starts with high quality bittersweet chocolate melted together with butter. To incorporate delightful textures, Italian biscotti, amaretti cookies or savoiardi ladyfingers get broken into chunks and stirred in once the chocolate cools. Nuts like hazelnuts, almonds or pistachios get toasted and chopped before folding them into the mixture. Finally, the topped salami gets chilled to set this mashup of chocolate, nuts and cookies into sliceable logs.
The beauty of Salami di Cioccolato comes from its creativity and adaptability. Chocolate selections run the gamut from dark to milk chocolate, allowing for preferences. Nuts can range from traditional hazelnuts or almonds to more unique options like pine nuts, pecans or walnuts to change up flavors. Custom cookie and biscuit blend-ins also encourage creativity, with classic options like ladyfingers, biscotti and amaretti cookies as well as additions like cinnamon graham crackers or ginger snaps. Once rolled into logs, the salami exterior accepts embellishments of toasted chopped nuts, powdered sugar, cocoa powder or holiday sprinkles before chilling.
Serving traditions showcase Salami di Cioccolato as the showstopping dessert for Italian Christmas Eve feasts or as edible treats to gift friends and family throughout the holidays. The logs slice neatly creating round disks ready to serve straight or accompany other sweets. For more casual affairs, the salami stays whole for guests to break off bark-like shards themselves straight from the nut or cocoa coated cylinder. However served, lucky recipients get to experience multiple textures and flavors in one bite, from the crunchy coating and crisp cookie bits surrounded by luscious layers of chocolate and butter.
Italians perfected the art of turning chocolate and pantry items into a unique holiday confection, but Portugal also embraced the creativity. Today cooks and bakers around the world try their hand at reproducing the enchanting combination of nuts, biscuits and rich chocolate studded through every slice. Salami di Cioccolato's shocking appearance, craveable taste and effusive holiday spirit solidify it as a dessert that delights across cultures and customs. This season, impress your family and friends by introducing the treat into your own celebrations so they too can fall in love with this chocolate salami.