Bonbons are lovely little soft puffs that melt in your mouth.  If you are new to working with fondant–around since the Renaissance– this is much less intimidating than trying to cover a cake.  Baby steps.
They came from the 17th century French Court, the name from the word "bon", meaning 'good' in French.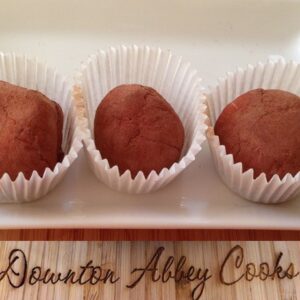 BONBONS
Ingredients
Basic Fondant
2

cups

sugar

1/8

tsp

cream of tartar

1

cup

water
1/3

cup

cocoa powder (for rolling)
Instructions
Wipe large heavy cookie sheet clean with damp cloth. Have a heavy metal spatula ready.

Put the sugar, cream of tartar and water into a heavy pot, stirring to blend thoroughly. Place over medium heat and let come to a boil, stirring until the sugar is completely dissolved.

Cover the pot and boil for 2-3 minutes. Uncover, dip pastry brush in cold water and wash down sides of the pot. Boil without stirring until the syrup reaches a soft-ball stage (238F).

Remove from the heat and without scraping the pot, pour out the syrup onto the cookie sheet.

Let it cool for about 10 minutes, until it is just lukewarm. Start to work it with the spatula, spreading it out and turning it over and over on itself. As it starts to thicken and whiten, it is easier to knead with your hands.

Continue to knead until it is white, creamy and too stiff to knead anymore. If it crumbles too much, sprinkle a little water and continue to knead; fondant cannot be overkneaded.

Cover with a damp cloth and let stand for 30 minutes. Knead again for a minute, then wrap in damp cheesecloth and store in an airtight container in the refrigerator.

Let it mellow for 3-4 days before using.

Let the fondant come to room temperature, kneading in flavour if desired.

Roll into 1/2 to 1-inch balls and set them on a cake rack to dry, then roll in cocoa. Alternatively, you can roll in chopped nuts, candies or other coatings.

Let dry again before serving or storing. These store beautifully in your freezer.