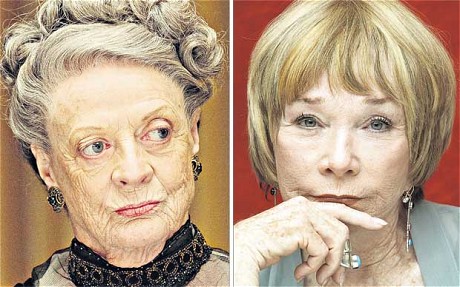 Social media is all abuzz this week with the announcement from Downton Abbey producers that Shirley MacLaine has been cast to play Martha Levinson, Cora Crawley's mother in Season 3. Perhaps any crumb about the new season would be eagerly gobbled up by starving Downton fans who have seen all previous episodes (some many times…guilty). Even the huge feast of the Christmas Special could hardly keep us satisfied for long.
But this casting news is no small crumb. Downton Abbey has drawn a wide huge audience from the United States, many from a younger demographic than what PBS normally attracts. Brian Wheeler, BBC News Washington correspondent recently wrote a great piece: The US Cult of Downton Abbey, examining the popularity. Some insights include great looking young people both upstairs and down, American fascination with British Aristocracy, a glimpse into a simpler time, and it's free on PBS, so that everyone can enjoy it.
Sparks are Sure to Fly
The first leap fans have made is that Martha will certainly be an formidable match for the caustic Violet, who has been quite public about her views about Americans. I particularly enjoyed her "wigwam" quip to Cora–Canadians ensure references to the"igloo's"we apparently all live in.
This clip foreshadows the relationship Violet is to share with Martha. Oscar winning actress Shirley MacLaine will surely not disappoint in generating some memorable drama on the show.
[youtube http://www.youtube.com/watch?v=i2bfYw1B_Ww"]
Anglo
American

Relations in the 1920s

This is all great for ratings, but the brilliance of the choice ties in well with history. Season 3 will be set in the 1920s, an important period in history which signalled the rise of the United States and decline of Britain as a world power. What better symbolism of the struggle for world domination than cat fights between two feisty old ladies. "Without our family money, Downton would have been ruined" Pow! "Oh good, let's talk about money". Bam!
Back to Food
As a foodie I am delighted to see the introduction of another major American character. Cora follows the British traditions in her newly adopted homeland. Her mother, how ever, will likey have much to say about broadening their horizons to American ideas of the time (think The Great Gatsby). Including food. I can also imagine her own maid packing newly created American sweets like Oreos, Wrigleys Gum and Twizzlers. I see Daisy in a sugar coma and Mrs. Hughes scraping chewing gum out of carpets.
The introduction of American influences into Downton opens the door for me to explore more of the amazing foods invented by Americans in that era. Cupcakes (aka fairy cakes), for example is every girl's idea of a good time. Red velvet cupcakes are my favorite, which were created around WWI which used beets, providing the red color.
The
American

English

Muffin vs. The British Crumpet

Americans also gave us those lovely muffins we enjoy in North America as a quick breakfast. Visiting relatives from the UK will not immediately recognize the tray of muffins you put in front of them. You may also think that English Muffins are a British invention when in fact they are an Americanized version of the English. Both are yeast based and relatively simple to make. Try them yourself. Which is better? Who cares? Either way your tummy will thank you.

So the battle of between Violet and Martha may boil down to the preference between crumpets and english muffins; who cares which is better as long as we get a taste.
Crumpets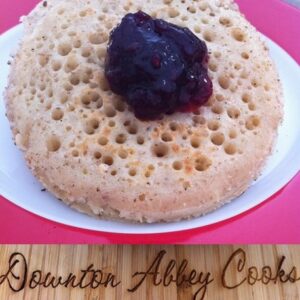 How to Make Crumpets
Crumpets date back to the 1600s, starting as a thin flat pancake, it was the Victorians who added the bubbles.
Ingredients
3 2/3

cups

all-purpose flour

1.5

tsp.

baking powder

1

envelope

active dry yeast (2 1/4 tsp.)

1/2

tsp.

sugar

2 1/4

cups

lukewarm water

3 1/2

tsp.

coarse sea salt,

crushed or ground

1/2

tsp.

baking soda

2/3

cup

lukewarm milk
Special Equipment
crumpet rings about 3 1/2 inches diameter, greased. You can also use tuna cans, biscuit cutters which make wee portion controlled crumpets.
Instructions
Mix the Ingredients
Sift together the flours and baking powder into a large bowl.

Pour 3/4 cup of lukewarm water into a glass, sprinkle yeast over the water, add the sugar and let stand until foamy, 5 to 10 minutes.

Stir in the remaining lukewarm water.

Mix the yeast mixture into the flour to make a very thick, but smooth batter, beating vigorously with your hand or a wooden spoon for twominutes.

Cover the bowl with plastic wrap and let stand in a warm spot until the batter rises and then falls, about 1hour.

Add the salt and beat the batter for about 1minute. Then cover the bowl and let stand in a warm spot for 15 to 20minutes, so the batter can rest.

Dissolve the baking soda in the lukewarm milk. Then gently stir it into the batter. The batter should not be too stiff or your crumpets will be "blind" — without holes — so it is best to test one before cooking the whole batch.
Cook your crumpets
Heat a very clean griddle or frying pan over moderately low heat for about 3 minutes until very hot.

Put a well-greased crumpet ring on the griddle to test your batter.

Spoon or pour 1/3 cup of the batter into the ring. The amount of batter will depend on the size of your crumpet ring. The crumpet should be about 3/4 inch thick.

As soon as the batter is poured into the ring, it should begin to form holes. If holes do not form, add a little more lukewarm water, a tablespoon at a time, to the batter in the bowl and try again.

If the batter is too thin and runs out under the ring, gently work in a little more all-purpose flour and try again. Once the batter is the proper consistency, continue with the remaining batter, cooking the crumpets in batches, three or four at a time.As soon as the top surface is set and covered with holes, 7 to 8minutes, the crumpet is ready to flip over.

To flip the crumpet, remove the ring with tongs, then turn the crumpet carefully with a spatula. The top, cooked side should be chestnut brown.

Cook the second, holey side of the crumpet for 2 to 3minutes, or until pale golden.

Remove the crumpet from the griddle. Be sure that the crumpet rings stay well oiled.

Crumpets are best enjoyed toasted, with your favorite spread.
Notes
Special Equipment
crumpet rings about 3 1/2 inches diameter, greased. You can also use tuna cans, biscuit cutters which make portion controlled crumpets.
English

Muffin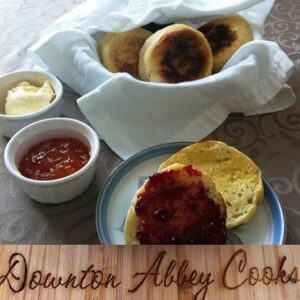 Make Your Own English Muffins
English muffins aren't actually "English". They were invented in the 19th century in America. They are likely called "English" muffins as they were based on the crumpet.
Ingredients
1

cup

warm water

1

tsp.

sugar

1

tbsp.

traditional yeast*

3

tbsp.

sugar

1/2

cup

skim milk powder

1

large

egg

1½

tsp

salt

3

tbsp

melted margarine

3

cups

white flour

unbleached

1/4

cup

cornmeal
Instructions
Proof: In a bread bowl, pour 1 cup warm water.  Add 1 teaspoon of sugar, but do not stir.   Slowly sprinkle 1 tablespoon yeast into the water, making sure each particle gets wet.  Again, do not stir.  Wait 10 minutes until the yeast is thick and foamy.

Mix: Then add the following ingredients, stirring well between each addition:  3 tablespoons sugar, ½ cup skim milk powder, 1 egg, 1½ teaspoons salt, 1 cup flour, 3 tablespoons melted margarine.

Add Flour (slowly): add flour ½ cup at a time to retain a soft dough.  Coat the dough lightly with flour before turning it out.

Knead: turn the dough out onto a lightly floured surface and knead until smooth and elastic. About 8 minutes.

1st Rising: Place the dough in a greased bowl, turn to grease the tip, set in a warm draft free place, allow to rise until double:  1½hours.

Shape: turn the dough out onto a clean surface and with a rolling pin roll into a rectangle that is 1/2 inch thick.  Let the dough rest for a minute, and then cut it out with a 2″ biscuit cutter.  Place the muffins on a ungreased cookie sheet that has been sprinkle with some of the cornmeal. Continue gathering the dough up and rolling it out until all of the dough has been used up.

2nd Rising: Place the cookie sheet in a warm, draft-free spot and allow to rise until double, about 30 minutes.

Cook: sprinkle an electric frying pan or griddle with cornmeal after preheating to 350 degrees F.

Place the muffins on the cornmeal and cook for 10 minutes on each side.

Enjoy:  Cut in two and slather with butter and your favorite jam while still warm, or toast.
Further Reading

For Downton Abbey Fans