"The servants' hall table at Downton is usually laden with batter puddings, potatoes, stews, and vegetables that are cheap and filling. Rather than being carefully molded and garnished, the dishes are typically served in the vessel they were cooked in, and while some of them take a long time to simmer or bake, the effort and time involved in  making them is minimal. Toad-in-the-hole was typical of servants' fare in the early twentieth century as it was cheap, easy, and versatile. The name dates back to the eighteenth century, though it's unclear why the meat was called a toad–possibly because it peeps from the batter like a toad from the burrow."  Annie Gray, The Downton Abbey Cookbook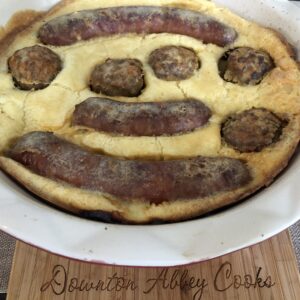 Downton's Toad-in-the-Hole
From the Official Downton Abbey Cookbok, this is a servant's hall batter pudding. The name dates back to the eighteenth century, though it's unclear why the meat was called a toad--possibly because it peeps from the batter like a toad from the burrow.
Ingredients
1

cup

milk

1

cup

unbleached white flour

1/4

tsp.

salt

2

large

eggs

1

lb.

bulk sausage meat

or chopped raw sausages

butter, lard or pan drippings

for preparing the pie dish
Instructions
To make the batter, whisk together the milk, flour, salt, and eggs in a bowl until thoroughly mixed. Set aside for 15-30 minutes.

Preheat oven to 350F (180C). Butter a 9-inch pie dish

Scatter the sausage over the bottom of the prepared dish. Put the dish in the oven for 10 minutes to render some of the fat and brown the sausage lightly. Remove from the oven, pour the batter over the sausage, and return to the oven. Bake until the sausage is cooked through and the batter has puffed up and browned, about 45 minutes.

Serve hot with gravy.
Notes
Batter puddings like these can be used with any filling, including fruit for a sweet version.  Toads are frequently recommended for eking out small amounts of leftover meat and vegetables. During the food shortage of the First World War, one author suggested adding chopped tomatoes and onions to bulk out the "minced meat of any kind." If you are using leftover cooked sausage or small meatballs for this recipe, there is no need to brown them before adding the batter.  Annie Gray
Get your own Copy