Foccacia is a traditional Italian flatbread that is served with antipasto or with your pasta dish. It is a no knead bread and very easy to make. This recipe comes from my friend Natalina who can be found at Natalina's Kitchen.  She teaches southern Italian cooking through online courses.
I love this recipe since the resting time is half the time of regular focaccia recipes.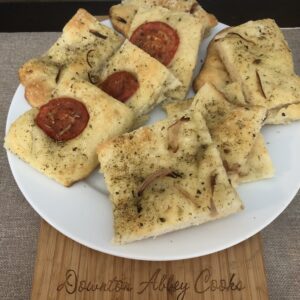 Easy Foccacia
I love this recipe since the resting time is half the time of regular foccacia recipes. 
Ingredients
Foccacia
2 3/4

cups

unbleached all purpose flour

3/4

tsp.

instant yeast

1 1/2

tsp.

salt

1 1/2

cups

warm water

olive oil
Topping ideas
1

tsp.

Sea Salt

1

small

tomato,

sliced

2

sprigs

rosemary

olives

2

cloves

garlic

finely chopped

1

medium

shallot,

finely sliced

1

small

onion

sliced and carmelized
Instructions
Place flour in a large bowl, then add the instant yeast and salt. Add the warm water and mix. You should be looking at the consistency of a very wet dough. Depending on your climate you may need to add a little more flour or water to get the right consistency.

Put saran wrap on top of the bowl and cover it with a clean towel. Let rise in a warm room for about an hour or until the dough doubles in size. An ideal spot to let rise is your oven with the oven light turned on.

Prepare a baking sheet by adding a liberal amount of oil or use parchment paper so you will be able to easily get the focaccia off once it has baked.

Oil your hands and coat the risen dough with oil to make it easier to manipulate. Place the dough in the pan and start stretching. Just like pizza, some like thin crusts, others like thick. For a thinner crust spread to the edges, thicker about three-quarters of the pan. If you are using different types of toppings, cut the dough into separate sections so each is its own little focaccia.

Cover with plastic wrap again and let rise another 20 minutes.

Preheat your oven to 450F. Brush on a generous amount of olive oil. Add your toppings: Classic Italian: olive oil and sea salt Tomatoes with fresh rosemary Sliced onions and fresh herbs: ensure to coat the onions and herbs in oil first so they don't burn Caramelized onions and parmesan cheese, Olives and gorgonzola Cheese with parmesan, mozzarella, and gorgonzola

Bake in the oven for 25-30 minutes until golden brown. Cut into squares and serve warm.