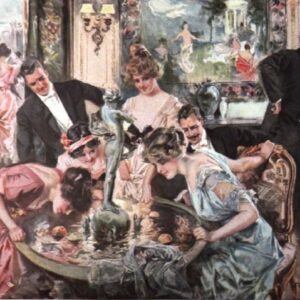 While Season 2 of The Gilded Age opened with Easter celebrations, we are now celebrating Halloween, one of the most beloved holidays in America, filled with fun costumes, trick-or-treating, and spooky decorations. While the origins of Halloween date back over 2,000 years to the Celtic festival of Samhain, many of the holiday customs we enjoy today developed during the late 1800s and early 1900s. This period, known as the Gilded Age, was characterized by great extremes of wealth and poverty, yet Halloween was celebrated across all classes. Let's explore some of the Halloween traditions that emerged during the Gilded Age, as well as the lavish foods the wealthy enjoyed around the turn of the 20th century.
Trick-or-Treating
The tradition of children dressing up and going door-to-door for treats has uncertain origins. Some connect it to the medieval practice of "souling" when the poor would beg for food in return for praying for the dead. Others link it to the Scottish tradition of "guising" where children wore disguises and accepted gifts while going house-to-house on Halloween. Regardless, by the late 1800s, trick-or-treating was widespread across America, possibly emerging out of harvest festivals. It gave poor and wealthy children alike the opportunity to gather treats and engage in a bit of harmless mischief.
Jack-o'-Lanterns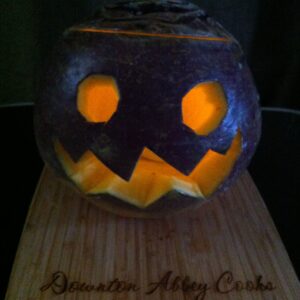 Carving pumpkins into jack-o'-lanterns is now a beloved Halloween tradition, but it also became popular in the 1800s. Using gourds and turnips, people had been making lanterns to ward off evil spirits for centuries. But pumpkins, native to America, were much better suited and easier to carve. The tradition of carving pumpkins with sinister faces became a fun Halloween activity, eventually evolving into the jack-o'-lanterns we know today. The scary carved faces were said to frighten away any evil spirits lurking about on Halloween night.
Costume Parties
During the Gilded Age, Halloween masquerade parties became fashionable affairs for the wealthy in cities like New York. Ladies and gentlemen dressed up in elegant or comical costumes, enjoying lavish feasts and entertainment. Costume parties on Halloween and other festive occasions offered an opportunity for high society to mingle, show off extravagant gowns and suits, and indulge in delicious food and drink. For the upper class, these Halloween parties were a highlight of the year.  As for traditional celebrations: bobbing for apples, carved pumpkins, and candy corn (The Wunderle Candy Company of Philadelphia was the first to commercially produce candy corn in the 1880s) commemorated the harvest season. While it was not unusual for the children to be put to bed and the adults to depart for riotous Hallowe'en parties, the holiday became one of the few occasions where people of all ages could celebrate with one another.
Gilded Age Cuisine
The excesses of the very rich during the Gilded Age were evident in all aspects of their lives, including food. Dinner parties featured multiple courses of rich and heavy dishes like oysters, lobster, venison, roasted duck, thick cuts of beef, and decadent desserts. The wealthy spared no expense for rare ingredients, fancy preparations, and imported delicacies. Exotic fruits never before seen in America, like pineapples and bananas, graced their tables. While average Americans enjoyed seasonal comfort foods, the elite indulged regularly in extravagant fare from around the world.
Halloween is a holiday for people of all classes to enjoy. Yet during the Gilded Age, Halloween customs took shape across society. Trick-or-treating became popular among children, jack-o'-lanterns guarded against spirits, and costume parties allowed the wealthy to celebrate in style. These traditions continue to shape our Halloween celebrations today, reminding us of the old ghosts and treats of the late 1800s. With creativity and imagination, we can all find ways to have a hauntingly good holiday.
Enjoy Traditional Halloween Fare