Soufflé literally means "puffed up," in French, and is a culinary term for a light, frothy dish, just stiff enough to hold its shape, and which may be savoury or sweet, hot or cold.  The basic hot souffle is based on a roux–a cooked mixture of flour and butter–and then incorporates beaten egg whites.  Food historians confirm this is a French invention in the late 18th century.  Recipes for various kinds of sweet and savoury soufflés appear in Louis Ude's The French Cook of 1813, a work which promises a "new method of giving good and extremely cheap fashionable suppers".
The Flop: Contrary to popular opinion loud noises do not cause soufflés to flop.  The rise and (and the inevitable fall) of every soufflé is a direct result of temperature. Heat expands the air in the egg whites; coolness deflates it.  For that reason, you do have to eat your creation as soon as it comes out of the oven (within 5 or 10 minutes) or it will deflate as it cools.
Enjoyed by the Royals for centuries, imagine how chefs were able to ensure the soufflé held its shape as footmen rushed upstairs to the dining room. Serve as a main course or appetizer in a more formal meal. The Queen enjoys her cheese soufflé by plunging a spoon down into the middle and pouring cream in the centre.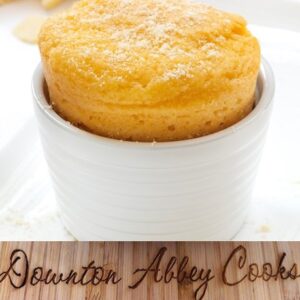 Soufflé au Fromage (Cheese Soufflé)
Soufflé has a bad reputation for falling so are avoided by timid chefs. The Royals love their soufflés so if palace chefs are confident that soufflés can make from the kitchens to the upstairs dining room you can too!
Ingredients
1

tbsp.

unsalted butter

for greasing

1 1/4

cups

heavy cream

1 1/2

tbsp.

all-purpose flour

1/8

tsp.

cayenne pepper,

1 1/2

tsp.

potato starch

6

tbsp.

Parmesan cheese

freshly grated

1

tsp.

unsalted butter

6

large

eggs

separated

1

pinch

ground pepper

freshly groun

1

pinch

kosher salt

1

cup

heavy cream

for serving
Instructions
Prepare the dish(es)
Liberally a 8 inch soufflé dish or six 8 ounce ramekins with butter, liberally greasing the top to ensure the soufflé will rise above the rim. Place the pan in the fridge for at least 30 minutes before baking.
Make the souffle
In a heavy saucepan, add the cream, flour, cayenne, potato starch, Parmesan, and 1 teaspoon of butter over high heat and whisk until the butter melts and mixture comes together into a thick sauce. Remove from heat and whisk the egg yolks. Season with salt and pepper to taste, then allow the mixture to cool for about 10 minutes.

Preheat your oven 400F. Position your rack to the center position and place a baking sheet in the middle of the rack. Have all your serving utensils at the ready.

Whip the egg whites until stiff and gently fold them into the cheese mixture until the egg whites and cheese mixture are combined.

Spoon into the prepared dish(es), and place on top of the baking sheet. Bake for 18 minutes or until the top is golden brown. Remove from the oven, and serve straight away with a jug of heavy cream.
Notes
Tools You can Use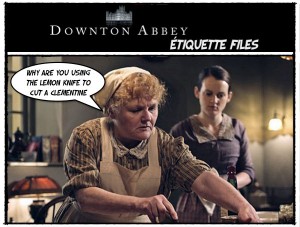 While cooks in Downton's era may not have had exactly the same type of kitchen gadgets we use today, Victorian cooks did start the craze for creating a tool for each job in the kitchen, so I blame our ancestors for my obsession with collecting these time savers.  You can even order this stuff directly from Amazon so you have more time to watch Downton.