Deviled eggs, the classic crowd-pleasing appetizer, never fail to satisfy taste buds with their creamy and tangy goodness. This timeless dish starts with perfectly hard-boiled eggs, then halved, and their yolks expertly mixed with mayonnaise, mustard, and a hint of paprika for a delightful kick.
The result is a velvety filling piped back into the egg whites, creating a visually stunning presentation. Whether served at a picnic, potluck, or elegant dinner party, deviled eggs are a delicious and versatile treat that always leaves guests craving more.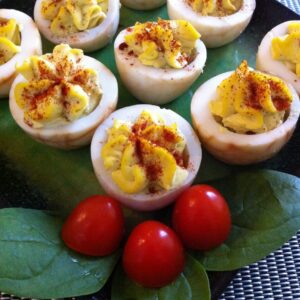 The Versatile Deviled Egg
Deviled eggs are always found on Edwardian appetizer platters and you will often see them on camera when the Downton kitchen staff are preparing for large parties.
Ingredients
6

large

Marbled Tea Eggs or hard boiled eggs

1

tsp.

Dijon mustard

2

tbsp.

mayonnaise

2

tsp.

shallot,

finely minced

1

dash

hot sauce

1

pinch

salt, freshly ground

to taste

1

pinch

pepper, freshly ground

to taste
Garnishes
1

pinch

Black sea salt

1

pinch

chives

finely chopped

1

pinch

Dill,

chopped or use little sprigs

1

pinch

parsley

chopped

1

pinch

Paprika

2

tbsp.

red pepper,

finely chopped
Instructions
You don't need an deviled egg tray to serve eggs. You can make a bed of greens for them to nest in. I prefer to make a flat base for them and stand them on end. Using a sharp knife, slice a small piece off of either end of each egg, then slice each egg in half, width-wise.

Gently remove the yolk halves and place in a small mixing bowl.

Arrange the egg white halves on your serving platter.

Mash the yolks and add mustard, mayonnaise, onion, hot sauce, and a sprinkling of salt and pepper.

Spoon, or ideally, pipe the filling using a star tip, into each cavity. Garnish to your liking to add a decorative touch. Keep at, or just below room temperature.

If you want a real show stopper, make Marbled Tea eggs, the recipe which can be found in my book Abbey Cooks Entertain.