I love hot chocolate in the winter months, topped off with marshmallows.  Named after the mallow plant which grows wild in marshes, ancient Egyptians enjoyed this treat, squeezing the sap from the plant, mixing it with nuts and honey. Fast forward to the mid-1800s, French candy makers began experimenting with whipping the sap and then moulding.  Eventually, they swapped out the mallow with gelatin which make the product more stable.  The treat was introduced to Americans in the early 1900s, manufacturing improved,  and has been a crowd-pleaser ever since.  In fact, the US is the main consumer of marshmallows, buying the sweet treat year-round, incorporating it into a variety of recipes, but also enjoying them in their simplest form in hot chocolate.
Topping with a whipped cream is one way to enjoy a hot chocolate this time of year, but it melts quickly in the heat.  Marshmallows, though are really the way to go as it slowly dissolves into this lovely topping.  Try this easy marshmallow recipe so you too can enjoy this treat. Make it keto using sugar substitute.
Enjoy in Summer as Well
Not limited to winter, you can create your own keto s'mores using keto graham crackers and dark chocolate.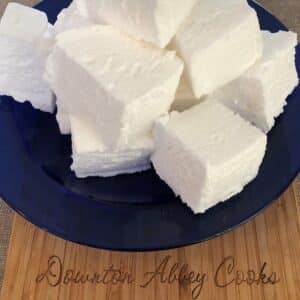 The Easiest Marshmallows
Making your own marshmallows is relatively quick and really easy. The added benefit if you are following a keto diet is that you enjoy this treat guilt free with sugar substitute.
Equipment
silicon 9 x 9 pan

stand mixer
Ingredients
1/2

cup

cold water

3

tbsp.

gelatin powder

2/3

cup

water

1

cup

Sugar (or sugar substitute)

1/4

tsp.

kosher salt

2

tsp.

vanilla extract
Instructions
If you have a silicone square pan, you will get the best results. Otherwise, line a metal pan with tin foil, then set aside.

Pour the 1/2 cup of cold water into your stand mixer bowl, or a large glass bowl. The mashmellow mixture will be at least 8 cups at the end. Sprinkle the gelatin in, mix thoroughly with a fork, and allow to bloom for 10 minutes.

In a small saucepan, add 2/3 cups of water, then pour in the sugar (or substitute) but don't mix. Bring to a boil over medium heat, boiling for 2 minutes. You should not see any sugar crystals at this point.

Working quickly, turn on your mixer on low (using the whisk attachment) to break up the gelatin, then quickly pour in the hot syrup. Increase your speed to high, and whisk non-stop for about 15 minutes.

Sprinkle in the salt and vanilla towards the end of your 15 minutes. The mixture will look like stiff egg whites, totally filling your bowl.

The mixture will set quickly so you will need to pour the marshmallow batter immediately onto your prepared dish.

The hard part now is to let the marshmallows to completely dry at room temperature. Ideally, but for at least 6 or 7 hours.

When completely dry, you should be able to easily, yet gently, remove the pan. Cut into squares with a greased knife. You shouldn't have a problem with sticking, but if you do, dust lightly with powdered sugar substitute.

You can store in an airtight container for a few weeks or pop into your freezer.
Nutrition
Serving:
10
g
Calories:
4
kcal
Carbohydrates:
3
g
Protein:
1
g
Fat:
1
g
Saturated Fat:
1
g
Sodium:
2
mg
Potassium:
1
mg
Sugar:
1
g
Calcium:
1
mg
Iron:
1
mg