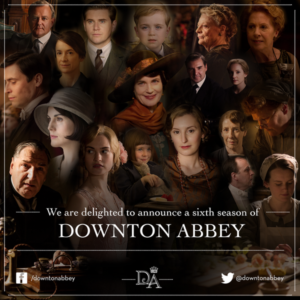 Those who garden realize the rewards of their efforts when the harvest comes.  While grocers can now ship produce to us year-round, the best taste still comes from the local harvest. So like Mrs. Patmore smart cooks prepare what is in season for the best taste.
And speaking of our favorite cook, PBS announced the launch date of Season 6 of Downton Abbey, and yes, this will be the last season of this wonderful show. If you have not been following along, Julian Fellowes, who writes the show, has signed a deal to write an American version called The Gilded Age. Since he cannot write two shows at once, it was finally decided that this will be the final season of Downton.  We will have to say goodbye, and let our favorite characters live out the rest of their fictional lives off camera.
There are still many months before the launch (The UK will likely see a Sept. launch date), and we should not let the summer harvest pass us by. I visited our family estate (farm) in July and remembererd just how sweet peas are, so today we will be making a simple classic dish of Peas in Béchamel. It can be served upstairs as a side dish or downstairs as Creamed Peas on Toast. 
Continue reading Downton Downtime: Celebrating Garden Bounty and S6 Launch Date