Get ready to discover the secrets of achieving perfectly crispy, golden-brown chicken with tender, juicy meat. Learn the tricks for achieving that coveted crispy coating of the classic buttermilk-soaked variation.
Once you learn to make the ultimate American comfort food nothing else will do.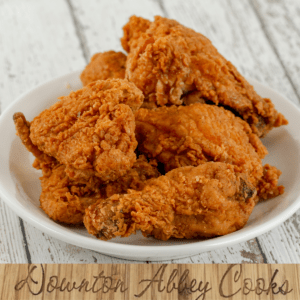 Southern Style Buttermilk Fried Chicken
Enjoy the crispy taste of Southern Fried Chicken any time of year
Ingredients
3

lb.

whole chicken

cut into pieces

2

cups

buttermilk

1

cup

all purpose flour

1

tsp.

baking powder

1

tsp.

salt

1

tsp.

pepper

vegetable oil
Instructions
Sprinkle chicken with salt and pepper, then place pieces in a zip-top plastic bag and add buttermilk. Seal bag and chill for at least two hours or overnight if you have the time.

Remove chicken from buttermilk (do not reuse buttermilk; discard) and dredge chicken in flour to coat.

Pour oil to a depth of 1 ½ inches in a deep skillet or Dutch oven, and using a cooking thermometer, make sure the oil is heated to at least 350 degrees.

Turning with tongs every couple of minutes, fry chicken on both sides. Adjust heat to maintain a steady temperature of 300-325 degrees, until skin is deep golden brown and an instant-read thermometer inserted into thickest part of chicken registers 165 degrees. (Cooking takes about 10 minutes for wings and 12 minutes for legs, thighs and breasts.)

Place a cooling rack inside a rimmed sheet pan and transfer chicken pieces to rack to drain.