A record 10 million viewers across the UK enjoyed another great episode of Downton Abbey last night (S3E3), and has quickly become one of my favorites, particularly since food gets specific mention.
In this episode our favorite Downton servants are treated to an extravagant meal of Edwardian classics, many of which were dishes served in 1st Class on Titanic.  I cooked through that ambitious menu (menu and recipe links here) in honor of the 100th anniversary of the tragic sinking. I hope that these menu choices on Downton Abbey were reflective of Julian Fellowes keen interest in Titanic, and not foreshadowing any tragic events on Downton Abbey (like the estate burning down).
Here are links to the dishes mentioned:  scroll down to the bottom of the page to get the recipe.
This delightful meal would be particularly decadent today since these ingredients are far more expensive than they would have been in Downton's time, primarily because of availability, and since we don't have huge estates where we grow/raise our own food.  Still, it would have been a new experience for servants.  The kitchen and serving staff would recognize these dishes, having prepared them for their employers.  However, their own diet consisted of heartier meals, which we now associate with "pub food".
Eat, Cook, Love: Rekindle Your Relationship with Food
I love these downstairs Servant's Hall scenes as much as the Upstairs dining room scenes.  Food brought people together, building community.  In our home, Lord D is head of program viewing (he found Downton in the first place), and found a wonderful two part documentary series called Eat, Cook, Love, produced by the CBC (Canadian Broadcasting Corporation). You can view it here, on a wonderful website with other thought provoking materials.
The series explores how the modern world has lost connection with food.  Our reliance on quick/convenient/cheap processed food has affected our connection with one another.  Since we no longer cook food for ourselves we have no idea what is going into our bodies.   Since we no longer seem to have the time, knowledge, or desire to cook, the pride in preparing a home cooked meal, sharing fellowship and love with one another in our own homes has been lost, a byproduct of our modern lifestyle.
Lord D. and I were shocked to learn that France, the home of haute cuisine, is the second largest consumer of McDonalds food after the US.  The tradition of passing down cooking skills in the home has been lost.  Possible solution?  Make cooking exciting, enticing, easy.  Adults who can learn to cook three simple dishes they love, will be able confidently entertain.  Children who participate in preparing meals are more likely to eat everything on their plate with a sense of accomplishment that they helped. When you cook together you are more likely to eat together and reconnect.
It's all about the love:  when it comes down to it, cooking is about love.  I have frequently written here about cooking as a way to show love to others, so I was thrilled that the documentary made a big deal about it.  Lord D always comments about how he can taste the love that I put into my cooking.  The healthy ingredients, the particular spices I use, are personal to me.  Most recipes are a blueprint, and once you know the basics of the chemistry involved, a jumping off place for your own inspiration.  The dining room table is a canvass for your creations.  The food of Downton Abbey in the Edwardian era was more about display of wealth than sharing wealth, but be assured that the Mrs. Patmore's staff who prepared the food took pride in their work and love for the Crawley Family.
Start Simple for the Love of Downton:  My goal has always been to inspire everyone to get back into the kitchen through the love of Downton Abbey.  Many of the dishes above can be quite complicated, but two recipes today are easy to pull together and you can take pride in the results.  These and many more recipes will be laid out in my Downton Abbey Cooks Entertain ecookbook now available for download here (click on the book cover in the right hand column) or order through Amazon.  I don't have a printed version, but the PDF version looks just like a book and you can print any or all of the recipes.
Upstairs: Decadent Yet Easy Truffled Egg Toast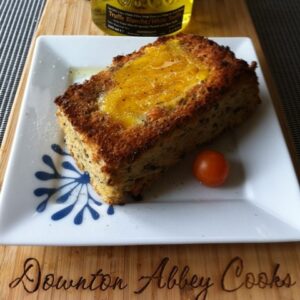 Decadent Yet Easy Truffled Egg Toast
This is a popular brunch item dish you will find in many upscale bistros, but it will also be served as an appetizer at lunch or dinner.
Ingredients
1

slice

bread

cut at least 1" thick and squared

2

large

egg yolks

1

tsp.

unsalted

melted

1/4

cup

Fontina cheese

grated (or other cheese)

1

tsp.

truffle oil

(or olive oil if you don't have any)

1

pinch

kosher salt

1

pinch

black pepper,

freshly ground
Instructions
Preheat the oven to 500 degrees F.

Cut the crusts off the bread and lightly brush melted butter/oil on the sides of the bread.

Using a sharp knife cut a shallow square well into the centre of the bread, by cutting an outline and then scooping out the middle.

Butter an oven safe frying pan or well-used baking sheet (it could get messy), and place the bread on the buttered surface.

Distribute the cheese evenly around the well, then carefully add the egg yolks on top.

Bake for 3minutes or until the cheese has melted, the bread has toasted, and the eggs have set a bit.

Remove from the oven, stir the runny yolks and drizzle the truffle oil on the surface.  Finish with the salt and pepper on top.

Serve hot and enjoy the yolky goodness.
Downstairs:  Traditional English Hotpot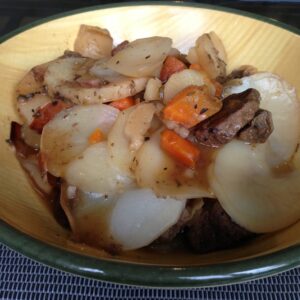 Traditional English Hotpot
Hotpot is a traditional English comfort food. There are many regional variations around Britain. The basic recipe consists of layers of lamb (or beef) and root vegetables (carrot, parsnips, onions, leeks) along with sliced potatoes. Layering continued until the pot was filled, traditionally in a  stoneware dish.
Ingredients
2 1/2

pounds

lamb or beef stew

trimmed of fat and cut into 1" cubes

5

large

white potatoes

peeled and thinly sliced

2

large

onions

peeled and chopped

4

medium

carrots

peeled and diced

2

medium

parsnips

1

cup

beef stock

3

tbsp.

Worcestershire sauce

2

tbsp.

dried thyme

tarragon or your favorite herb you enjoy with beef

3

tbsp.

Flour
Instructions
Pat the beef dry with paper towels. This gives you a nice browning to the meat.  Fry in batches at medium heat in a frying pan heated with olive oil.

Once the meat has browned, remove, then fry the root vegetables approximately 3-5minutes.  Sprinkle on the flour and cook a few moreminutes.

Layer the slow cooker with potato on the bottom, then beef, then vegetables, repeat.  Ensure that the top layer is potato and you overlap the potatoes.

Pour the beef stock over the contents.

Turn Slow Cooker to heat setting 'low' and leave for 8hours.
For Your Downton Collection