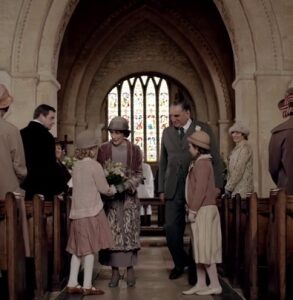 Another week of 2016 has slipped through our fingers so quickly that I won't be disappointed to discover that winter will be over before I know know it, with just a hop and a skip until summer. Well, at least the days are starting to get noticeably longer.
Sadly, Downton didn't do so well at the Golden Globes last Sunday; Joanne Froggat and Dame Maggie came up short, but Joanne did make the top ten best dressed list, and had some good press.
This was a wonderful week for Downton romantics, though. We haven't been so thrilled over a downstairs wedding since John Bates married Anna. But will there be wedded bliss?
In keeping with tradition here, I will continue to share a recipe from each episode which gets on screen mention as my love letter to the Downton kitchen staff and to those fans who love the food on the show. There were a few dishes mentioned in tonight's episode: dover sole, peaches over brandy, crown roast, but since it is winter I settled for simple comfort. Fit for the Dowager, today's recipe is drinking or hot chocolate, so simple even Denker can make it.
Downton Dish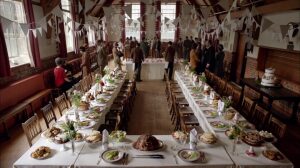 While this is the last season there are still a feast of share:
What Happened in Season 6, Episode 3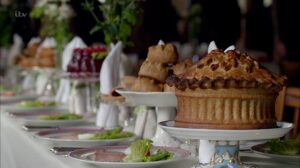 A quick recap of what went on down and upstairs this past week:
The Carson/Hughes wedding finally moves forward once the battle of wills on the location of the reception was settled. Complete with blushing bride and nervous groom, but no kissing.  A modern and splendid full sit down breakfast topped it off.  Will there be more wedding bells this season?
Mrs. Patmore experiences the downside of catalogue shopping when trying to surprise Mrs. Hughes with a new wedding dress.
To add to the drama of the wedding dress, there was a misunderstanding over the loaning of one of Cora's coats, but it ended well, and a new coat for Mrs. Hughes in the bargain.
Edith finally parts ways with mean Editor Skinner, leaving her to finish the layout of the magazine. Bertie Pelham saves the

day

, helping her pull an all-nighter to get it to press.
Robert is still in the middle of the battle between Cora/Isobel and his mother over the hospital.
Daisy continues meddle, hoping to get Mr. Mason settled at Drewe's farm now that it is vacant.  She really used to be my favorite character, now not so much.
Anna is pregnant, "Lord knows the problem isn't Bates" exclaims Mary.
Thomas continues to seek employment, and has begun to realize how the world has changed outside the walls of Downton.
Over at the Dower House, Spratt has been helping his nephew on the run. Denka helps cover his tracks and finally has something over him.
Branson is an unexpected surprise guest to the wedding. He has returned to Downton for good.
Fundraising Idea: Relaxing Over Afternoon Tea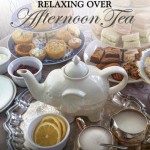 Afternoon Tea: what a lovely way to host fellow Downton fans as you discuss the latest episode, and ponder what Downton will deliver next. The book contains 60+ recipes for tea treats, the three S's: scones, sandwiches/savouries and sweets.
The book provides a brief history of afternoon tea, tea etiquette and tips on how to host your own tea for fun or fundraising.  Amazon sells the print version and Kindle versions, or a you can download PDF version here.
Abbey Cooks Entertain: 2nd Edition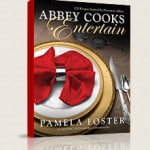 Whether you are hosting 2 or 20, this book has lots of ideas. Containing 220+ traditional Downton era recipes with a modern twist, this is a great book to create some simple or complex dishes for your Mary or Anna.
This 448 page ebook has been updated to include both metric and imperial measurements and now includes famous Downton dishes throughout the series.  Book sales help offset my costs in food, equipment and time to provide you new recipes on a regular basis.
This ebook is now available for download on my site and on Amazon:  Abbey Cooks Entertain: 220 recipes inspired by Downton Abbey
Print Version is here.  The good news is that the 2nd Edition is available on Amazon. The full book is 450 pages and will contain famous Downton recipes across seasons.
History Lesson:  Domestic Goddess – Mrs. Beeton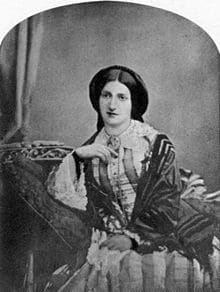 As a guide to running a Victorian household, The Book of Household Management (BOHM) quickly became the most famous English book on domestic management, selling 60,000 copies its year of publication and almost 2 million by 1868.  The book was still widely used at the turn of the century, and amazingly still in print today.
BOHM could very well have given instruction to not only Mrs. Patmore on cookery, but to Mrs. Hughes on how to manage the house, and Lady Cora on how to serve as mistress of the household.
Drinking Chocolate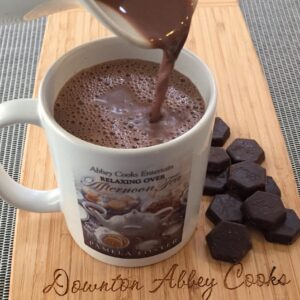 Mrs. Beeton's Drinking Chocolate
Mrs. Beeton, the original domestic goddess used half water and half milk for her hot chocolate, but this recipe uses all milk for a richer result and gives the option of adding honey for an even more indulgent drink. Freshly grated chocolate (from a premium dark chocolate bar) gives a luxurious silky texture, but you can use the cocoa powder for a lighter result if you prefer.
Ingredients
1

cup

milk

1

tsp.

honey or caster sugar

1

oz.

dark chocolate

or cocoa powder
Instructions
Place the milk in a saucepan over medium heat. Add the honey or sugar and bring to a simmer.

Whisk the grated chocolate or the cocoa powder into the hot milk until the chocolate has melted and the mixture is smooth.  Simmer for one minute, add more honey or sugar to taste and serve.
For Your Downton Abbey Collection