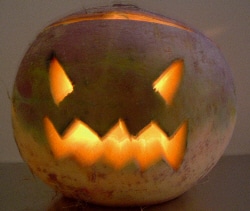 October is time for Fall activities, culminating in Halloween on the 31st. You may not realize this, but like St. Patrick's Day, we are all at least partly Irish on Halloween. Let me explain.
This holiday has ancient origins in Ireland. It was originally called Samhain (summer's end), and the day marked the end of the harvest season for Celtic farmers.
The night or evening of Samhain, therefore, became known as All-hallows-even then Hallow Eve, still later Hallowe'en, and then of course Halloween. A special time of the year when many believe that the spirit world can make contact with the physical world, a night when magic is at its most potent.
We can thank Irish immigrants for Halloween who brought their traditions to America. They did need to adapt to their new surroundings. For example, large turnips were originally hollowed out as Jack o Lanterns, but pumpkins were available and so much easier to carve. The lanterns were displayed on window sills to ward off any evil spirits. The practice originated from an Irish myth about a man nicknamed "Stingy Jack." Check out history.com to learn more about the legend of Jack.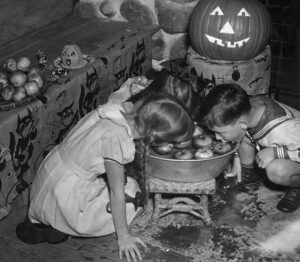 While most of us think of this day as a pagan holiday, it does have religious connections.  The root word of Halloween – "hallow" – means "holy." The suffix "een" is an abbreviation of "evening." It refers to the Eve of All Hallows, the night before the Christian holy day that honours saintly people of the past. All Saints' Day on Nov. 1, followed by All Souls' Day on Nov. 2.   "Souling" was the original trick-or-treat activity held around the same time.
Halloween Traditions in the UK
Throughout Britain, Halloween has traditionally been celebrated with parties where guests are often expected to arrive in costume.  In the 1920s those costumes would have been handmade. The upper classes would hold costume balls; downstairs affairs would be less formal.  Children's games including bobbing for apples and telling ghost stories.
What to Serve on Halloween?
Anything pumpkin-related on the day will do.  See below for traditional foods which would have been served on Halloween.
Traditional Halloween Foods
Celebrate Halloween as they do in the UK with traditional dishes.
Barmbrack means "speckled cake". It is baked in either a loaf pan or cake pan depending on your family tradition.  The brack foretells the future. Baked with charms, a piece is served to each member of the family, and your piece may contain a charm which will determine your fate:
A coin: good things, hopefully, riches, on the way
A ring: you'll be married within the year
A snippet of cloth: rags, poverty, bad luck in the year ahead
Trick or Treating originated in Britain and Ireland on All Souls Day.  Children and the poor would go "souling", going door-to-door singing songs, saying prayers for homeowners, and performing other tasks to receive a soul cake:
A soul! A soul! A soul-cake!
Please good Missis, a soul-cake!
An apple, a pear, a plum, or a cherry,
Any good thing to make us all merry.
One for Peter, two for Paul
Three for Him who made us all.
This is a cabbage and potato dish, also known as bubble and squeak in other parts of the UK. Leftovers make scrumptious colcannon cakes.
There is nothing as comforting as stew when it is cold outside.  Celebrate Branson's heritage with the way the Irish prepare stew, with beer, added.
Great use of leftovers the day after, and to help recover from the night before.
Halloween Costume Ideas
Here are some great ideas for inexpensive costumes from Amazon. Just click to order.