Apple Charlotte is a very simple dish, made famous on Downton Abbey. And in spite of Mrs. Patmore's protests, it is really simple to make and was one of King George V's favorite desserts.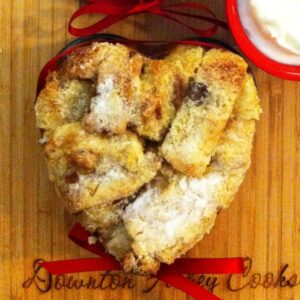 Individual Apple Charlottes
Apple Charlotte is a very simple dish, made famous on Downton Abbey.  Make individual servings for special guests.
Ingredients
10

slices

raisin bread or other sweet loaf,

crusts removed

2

medium

cooking apples

peeled, cored and diced

2

tbsp.

butter, unsalted

1

tsp.

pure vanilla extract

2

tsp.

lemon juice fresh

3

tbsp.

light brown sugar

1/4

tsp.

ground cinnamon

3

large

eggs

2/3

cup

milk

1

tbsp.

caster sugar

make your own by pulsing sugar in a blender

1

tbsp.

icing sugar for garnish
Instructions
Carmelize the apples by melting the butter in a medium saucepan. Add the apples, vanilla, lemon juice, brown sugar and cinnamon. Mix well and cook on low heat anywhere from 15 to 25 minutes until apples are just tender and liquid has evaporated. It should have a nice medium caramel colour.

While the apples are cooking, combine the eggs, milk and sugar in a shallow dish. Stir with a fork until fully combined. Set aside.

Preheat the oven to 375 degrees F and generously butter 4 small ramekins. For a romantic meal or Valentine's Day I use heart shaped springform pans. (see below)

Using a round 2.5 inch cookie cutter, cut out four circles from the bread. These will be the bases of the charlottes. Cut the other slices of bread into rectangles about 1" in width. Cube and store your bread scraps in an airtight container to be used for croutons or stuffing.

Start with the circle cut outs, and lightly coat with the egg mixture, and place in the bottom of each ramekin. Lightly dip the other rectangles of bread in batter as well, then use them to line the walls of each ramekin - standing them upright around the perimeter leaving an overhang that you will later use to fold over and seal the charlotte. It should take about 6-8 strips per ramekin.

Fill each bread mold with the apple mixture. Add a piece or two of bread to the top and fold over the edges to seal it up completely. Sprinkle the tops with a little sugar.

Bake in the center of the oven for 20 to 25 minutes, or until golden brown and puffed up. Allow to cool slightly, then run a knife around the edges and invert onto individual plates.
Notes
For a special, yet easy Valentine's Day dessert, use heart shaped molds to achieve two perfect hearts!
Where to Buy