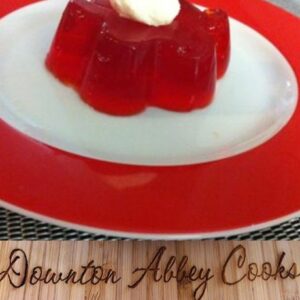 Jiggly Strawberry Jelly
Flavoured Jello is so convenient, but try making it old school. You will know exactly what is in your food and great way to use extra strawberries from the local market.
Ingredients
4 ½

lbs.

strawberries, hulled

½

cup

caster sugar

Keto version: use Swerve or your favorite sugar substitute

1

tsp.

lemon juice

1

tbsp

gelatin powder, unflavored
Instructions
Mash the strawberries with the caster sugar with a potato masher and let the mixture rest for an hour.

Transfer to a jelly bag (or multiple layers of cheesecloth set over a sieve) set over a large bowl. Resist the urge to press on the fruit. Cover with a clean cloth, and leave in a cool place overnight.

This should yield 2 cups of liquid*. If you don't have enough, add enough apple juice to make up the difference. If you have more than 2 cups you can add a little more gelatin .

Heat ¼ cup of the strawberry juice to boiling. Sprinkle the gelatin over ¼ cup of cold water in a bowl, let bloom, and then add the hot juice, mixing thoroughly until the gelatin has dissolved. Add the rest of the juice and lemon juice. Strain the mixture through a fine sieve into a large decorate mould, or individual moulds and chill overnight to set.

The trick to turning out the jelly mould is to quickly dip in a bowl of boiling water to loosen the edges.
Notes
If you need other inspirations for your strawberry bounty gathered from your local farm, you can also make